Indian Cricket Team Shows Their Support Towards Prime Minister's Janta Curfew
Published 03/19/2020, 12:57 PM EDT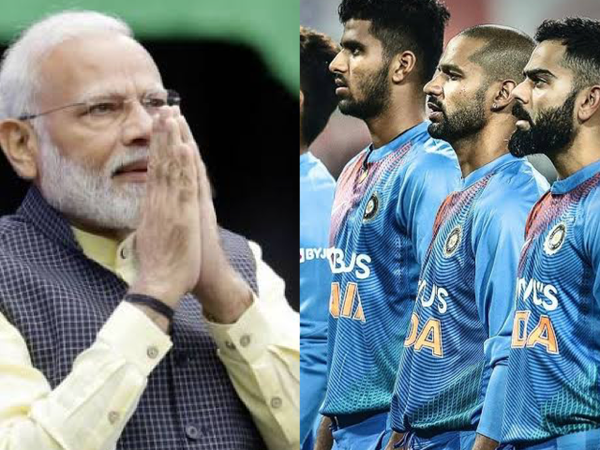 ---
---
India's Prime Minister, Narendra Modi, addressed the nation at 8pm on 19th March. The primary focus of this is to ensure India knows what to do next regarding Coronavirus outbreak. The first order of business is that India will observe "Janta Curfew" on Sunday 22nd March.
ADVERTISEMENT
Article continues below this ad
Prime Minister Narendra Modi announces Janta Curfew
This curfew means that nobody should step out of their houses. The only ones stepping outside should be individuals who absolutely have to. For example, individuals who are associated with essentials services. Otherwise, no one should exit their homes. He says that it is essential everyone follows this curfew to the very last second.
ADVERTISEMENT
Article continues below this ad
"Under this Janata (public) curfew, no one should leave their home or gather in their neighborhoods. Only those related to essential services should go out."
On top of that, he addresses the doctors, nurses, and other essential services' staff who are working around the clock. He announces that as a token of appreciation, there will be a session of applause for them. This will commence at 5pm on 22nd March. Everyone should go to their balconies or doors and clap for five minutes.
"On that day, at 5 pm, we will stand at our balconies, windows or doors for 5 minutes, we will show our gratitude to those maintaining essential services by ringing bells, sounding sirens and clapping."
Prime Minister highlights the dangers of COVID-19
Finally, Prime Minister Modi says that the next couple of weeks is crucial for India. A few weeks of self-discipline will ensure everyone remains healthy. He believes that this one day of "Janta Curfew" will begin the process. Additionally, he says that considering there is no cure available in the market, it is all upto the citizens. If the social-distancing protocol does not get set into motion, everyone will be in danger.
"We need to avoid crowds and stay home. Social distancing is critical. If you think you can roam around as usual and feel you will not be at risk, this is incorrect; you are endangering yourself and your family."
The Indian cricket team did not waste any time to ensure their fans know the speech. They immediately took to Twitter to express caution.
Here are the tweets by the Indian cricket team
Be alert, attentive and aware to combat the threat posed by the Covid 19. We, as responsible citizens, need to adhere to the norms put in place for our safety as announced by our Honourable Prime Minister Shri @NarendraModi ji. #IndiaFightsCorona

— Virat Kohli (@imVkohli) March 19, 2020
ADVERTISEMENT
Article continues below this ad
PM @narendramodi assures 1.3 billion Indians as #IndiaFightsCorona All should
a) PLEDGE to practice social distancing & maintain hygiene
b) Have PATIENCE through the next couple of weeks

Let's fulfill our National Duty & make #JantaCurfew a success.Spread the word.Jai Hind!🇮🇳

— Gautam Gambhir (@GautamGambhir) March 19, 2020
ADVERTISEMENT
Article continues below this ad