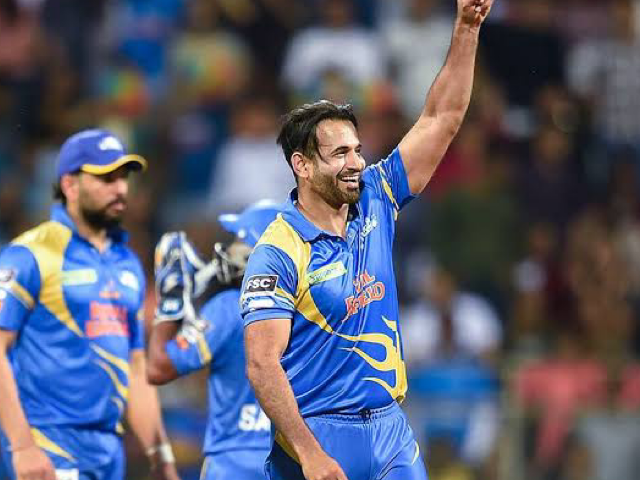 The Road Safety World Series is on-going. The match between India Legends and Sri Lanka Legends was a thrilling match. Irfan Pathan put up an excellent performance to lead India to victory.
Irfan Pathan leads India Legends to victory
India was chasing a target of 139 runs. By the end of the 11th over, the score was 62 runs for 4 wickets. Irfan Pathan takes over at number 6 and scores a quick 50. This puts India on the track to victory.
Pathan's score for the evening stands at 57 runs from 31 balls. This score includes 3 sixes and 6 fours. On the other hand, players such as Tendulkar, Sehwag, and Yuvraj Singh were dismissed at 0, 3, and 1 runs respectively.
— venu_gopal_rao_fans (@CricketVideos16) March 11, 2020
Initially it was Sanjay Banger and Mohammad Kaif who were scoring for India. Unfortunately, Banger's wicket fell in the 11th over. On top of that, Kaif's dismissal soon followed. At this point, India's requirement stands at 58 runs from 34 balls. The partnership between Irfan Pathan and Manpreet Gony is the primary contributor in India's victory. Their performance ensured India's victory with five wickets and 8 balls remaining.
Here are the fan reactions
What a knock under pressure @IrfanPathan !!! Loved watching your batting, especially those sixes coming off your bat… Also, well done with the ball… Brilliant all-round performance.. 👏👏 pic.twitter.com/StgXPyQZk5

— Yusuf Pathan (@iamyusufpathan) March 10, 2020
Super baating with super power… congratulations @IrfanPathan sir.
thnx alot for ur kind words…
glad that u like my work…
superhappy… 🏏🏏🏏🏏 pic.twitter.com/meTxw7eNWE

— SIDDHARTH JADHAV 🇮🇳 (@SIDDHARTH23OCT) March 10, 2020
Munaf Patel's bowling restricts Sri Lanka from scoring
On the bowling front, Munaf Patel securing four wickets contributes heavily to Sri Lanka not being able to score beyond 138 runs.
Pathan's performance is a reminder for the performance he put up with brother Yusuf Pathan at Colombo in 2009. That match was against Sri Lanka as well.
India Legends skipper Sachin Tendulkar opted to bowl first following the toss. Sri Lanka legends's score for the match stands at 138 runs for 8 wickets in 20 overs. In fact, the last 15 runs of their innings came from the final over alone. Rangana Herath tackled all the three deliveries of the last over towards the boundaries. These boundaries helped in Sri Lanka making it past the 135 mark. The top scorer for Sri Lanka is Chamara Kapudegra. His score includes 3 fours. The total is 23 runs for 17 balls.