"It's been Interesting" Kane Williamson on his Friendship with Virat Kohli
Published 06/07/2020, 10:00 AM EDT
By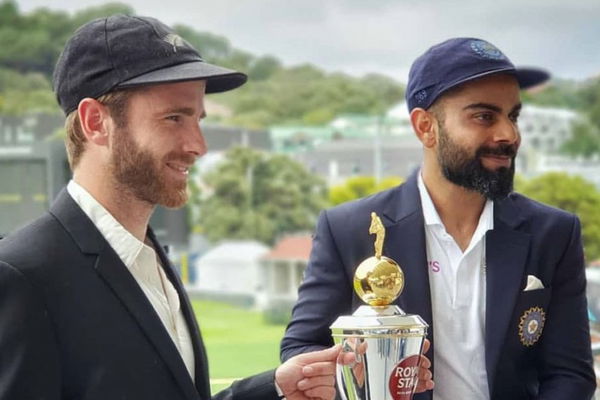 New Zealand skipper Kane Williamson is good friends with India's captain Virat Kohli. Both the players lead their teams from the front. Kane and Virat have been playing against each other since their under 19 days. Though Kohli and Williamson have contrasting personalities, they share a good friendship between them. While the New Zealand captain is calm and composed, the Indian captain is aggressive in nature. 
ADVERTISEMENT
Article continues below this ad
Earlier this year, India visited New Zealand for a Test, T20 and ODI series. India won the T20 series but the host managed to win the Test and ODI series. The major highlight of that tour was Virat and Kane chatting with each other during the 5th T20 match while sitting on the boundary line. The picture of the two from that match received a lot of appreciation from the fans all over the world. 
Recently, in an engaging conversation on Star Sports Cricket Connected Show, Kane Williamson gave an insight into his friendship with Virat Kohli. Kane said, "Yes, we are fortunate to play against each other. It has been great to meet at a young age and follow his progress as well as his journey" 
ADVERTISEMENT
Article continues below this ad
He further added, "It's been interesting, we've had to play against each other for a long period of time. But actually, probably over the last few years we just shared our views on the game, some honest thoughts and found some common grounds and despite perhaps playing the game a little bit differently in terms of physically and maybe our on-field characters I suppose."
Virat Kohli extends support to Kane Williamson
Many times in the past, Virat has supported his fellow mate Kane Williamson and praised him for handling the team well. After New Zealand's whitewash in the three-match Test series against Australia, questions were raised over the leadership skills of Kane.
However, the Indian skipper stood by Kane and said, "I don't think leadership can always be determined by the results. It's also about how you can get the team together and get the guys functioning under you as well, which I think Kane has done wonderfully well" 
ADVERTISEMENT
Article continues below this ad
He added, "He has the respect of his teammates and he has the trust of his teammates, is what I can see, and he's also a very, very smart cricketer."
A few days back, Kohli had also posted a picture featuring him and Kane Williamson. It was a candid shot and the picture went viral on social media in no time. Virat shared the picture with the caption, "Love our chats. Good Man @kane_s_w" 
ADVERTISEMENT
Article continues below this ad