James Anderson and Stuart Broad Reveal their Retirement Plans
Published 04/24/2020, 4:39 AM EDT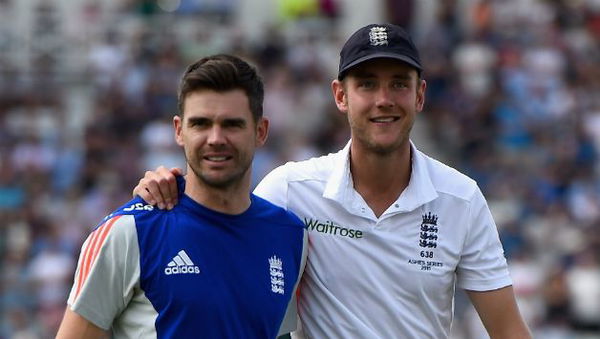 ---
---
England pace bowlers James Anderson and Stuart Broad conducted a live session on Instagram. The duo talked about a lot of things ranging from their chemistry on the field, rivalry, and retirement plans. 
ADVERTISEMENT
Article continues below this ad
Both Stuart and James are first and second respectively in England's of all-time test wicket-takers. They have performed exceptionally well in the longest format of the game but are now heading towards the end of their cricketing career. Anderson is 37-years-old and has been out of the National Team for the past year owing to his injury problems. Though Broad is 32, four years younger than his fellow paceman, he believes that his bowling career would be as long as Anderson's.
James Anderson and Stuart Broad are hoping for a grand and memorable farewell Ashes series in Australia in 2020-21. 
ADVERTISEMENT
Article continues below this ad
Anderson questioned Broad about his retirement plans during the live session. Answering the question, Broad replied, "I don't think I could go until your age. Your action's so smooth, it looks a lot calmer on your body whereas mine is a little more forceful through my body I think." 
"I'd never want to get to that place where I'm bowling against a 19-year-old and they're going, 'I thought someone said he used to be a good bowler'. Personally I'd hate that. I'd prefer to go that little bit earlier than that little bit later."
The 32-year-old further added, "But I'm loving the environment at the minute. I love playing for England. I still have huge motivation to keep playing and you just assess that year by year. And we've got that carrot dangling over us of Australia in Australia which looks like an achievable carrot to grab." 
Australia is the current Ashes holder as they retained the trophy after a draw tournament last year in England
ADVERTISEMENT
Article continues below this ad
I'll keep playing: James Anderson
Anderson also revealed his retirement plans in the live session. He believes that he is good to play as long as his fitness is good. Also, he feels that there is no reason he should be excluded from the Ashes squad if he maintains his high standards. 
ADVERTISEMENT
Article continues below this ad
The pacer said, "The big thing is standards. If your standards feel like they're dropping then yeah you might consider finishing. But as long as my standards stay high, my fitness levels stay good and my skills stay where I want them to be and my speed stays pretty good which they have been (I'll keep playing)."
Anderson concluded saying, "We've got an exciting team and few young guys who are just starting out on their journey. We've got some more established guys and we've got two guys who have been around a long time."