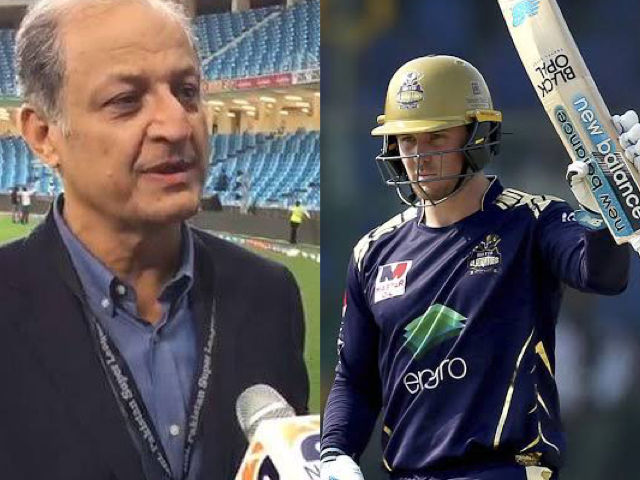 England player Jason Roy was the recipient of certain allegations by the Quetta Gladiators owner Nadeem Omar.
Quetta Gladiators owner claims Jason Roy destroyed five bats during PSL 2020
According to Omar, Jason Roy carried 5 bats with him to Pakistan during PSL 2020. However, he broke all five of them in the dressing room. Following this, the PSL franchise had to arrange new bats for him. Quetta Gladiators player, Ahmed Shehzad, helped the management with this quest.
"Very few people know that Roy broke all his bats, five to be exact, in the dressing room [in frustration]. We arranged new bats for him in Rawalpindi through the help of Ahmed Shehzad."
However, Jason Roy has rejected all the claims. He replied to the tweet by coming forward with his side of the story. His brief of the situation said that he carried only three or four bats with him to Pakistan. Moreover, one of the primary reasons his bats kept breaking was due to the dry weather that prevails in Pakistan.
That's not correct. 3 bats broke due to the dry weather and using them in the nets too much. I only took 3 or 4 bats over with me to Pakistan.

— Jason Roy (@JasonRoy20) April 25, 2020
Nadeem Omar believes the England player could have done better towards the middle order
Next, Nadeem Omar claimed that Jason Roy and his opening partner Shane Watson did not complement each other. At least, that is what it looked like to viewers. Another claim was that Roy kept complaining about how he could not middle the ball.
"Jason Roy kept on saying that he was not able to middle the ball while batting. Also, I think he and Shane Watson were not able to complement each other at the top of the order because Watson prefers the big shots while Roy likes to run quickly between the wickets in order to score runs."
To make sure the two of them can perform better, the management advised both Roy and Watson to become a part of the middle in the batting order. Unfortunately, both of them refused with valid reasons.
Quetta Gladiators were the defending champions of Pakistan Super League but failed to reach the finals of PSL 2020.