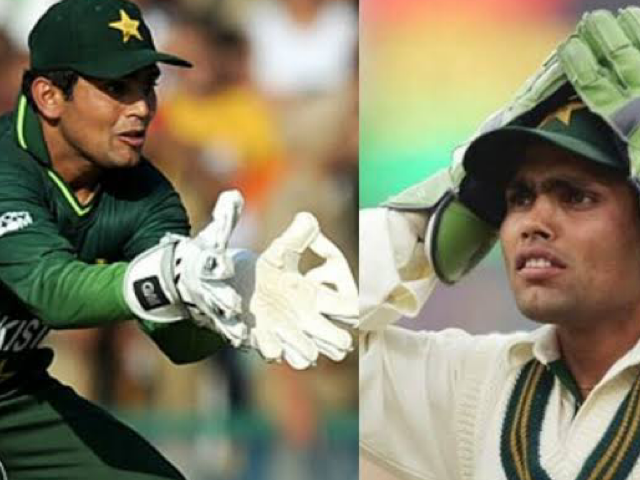 Kamran Akmal, the wicket-keeper and batsman, drops another catch and becomes the face of viral memes all over again.
This incident took place during the match between  Quetta Gladiators and Peshawar Zalmi at the Pakistan Super League. During the 14th over of the second innings, Sohail Khan tackled a delivery from Hasan Ali. The ball took a straight flight upwards. Kamran Akmal, who was right under the ball, missed the catch and gave Sohail Khan a lifeline. Not only did the audience think that this is Sohail Khan's dismissal, but so did the commentators. One of the commentators even exclaimed about what Kamran Akmal is doing right after he dropped the catch.
Read: PSL 2020: Controversy Following Peshawar Zalmi Vs Karachi Kings
Akmal previously faced a lot of criticism due to him not being able to catch the balls that can lead to dismissals. There are incidents where the player is seen dropping the simplest of catches.
Here is a video of Kamran Akmal dropping the catch
KAMRAN AKMAL PUTS DOWN ANOTHER ONE ❌

Sohail Khan managed to hit it high up into the night sky but Kamran Akmal couldn't take it #HBLPSLV #TayyarHain #CricketForAll pic.twitter.com/Hj4HdvhfxU

— Cricingif (@_cricingif) March 5, 2020
Obviously dropping a catch like this does not sit well with the fans of the team. Social media users immediately started circulating jokes and memes based on Kamran Akmal's disappointing drop.
Fan reactions to the drop
If there is a stat for dropped chances I wonder if he would have the all time record #DollyDropper #CantCatchACold #CantCatchCoronaVirus

— EliteCricket PerformanceAcademy (@ElitecricketP) March 5, 2020
How is this guy still picked as a keeper?

Surely this has to be investigated…..he does this nonsense so so often.

— adam (@adam220202) March 5, 2020
This Catch Dropped with some Purpose…He Catches the ball then dropped it…. And The Reaction of Catcher & other player is shocking…

— Baazigar (@FarziBaazigar) March 6, 2020
However, negative remarks are not the only reactions. There are certain social media users who took the time to build memes around this subject.
Here are some of the memes created
#kamranakmal #PZvQG #QGvsPZ #merajismmerimerzi #WeRejectMeraJismMeriMrzi #WeRejectMeraJismMeriMarzi pic.twitter.com/Emei8VTYOl

— CricTroll (@CricTroll1) March 6, 2020
#kamranakmal #PZvQG #QGvsPZ #PSL2020 #HBLPSLV pic.twitter.com/uH0REAxR8i

— CricTroll (@CricTroll1) March 6, 2020
Fortunately, this incident did not have a prolonged effect on the match. Peshawar Zalmi won the match by 30 runs. The team scored a total of 150 rounds from the 15 overs. Shoaib Malik contributed heavily with his century for this score. On the other hand, the Quetta Gladiators failed to score 150 runs. Their score at the end of match was 140 runs.