MS Dhoni and Suresh Raina Unites Ahead of IPL 2020
Published 03/03/2020, 5:47 AM EST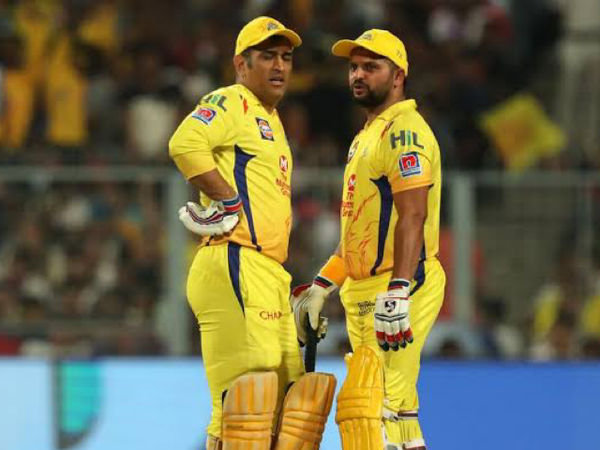 The stars of Chennai Super Kings, Dhoni and Raina, share a heartwarming moment ahead of IPL 2020 practise. Both the players are constant members of the team. They played the first season of IPL together and they will play the 13th season together as well. On top of that, both the players are two of highest scorers in the team.
ADVERTISEMENT
Article continues below this ad
Considering how Raina and Dhoni work together like a well-oiled machine, they both are recipients of appropriate nicknames by fans. The CSK fans refer to Dhoni as "Thala" and Raina as "Chinna Thala". This closely translates to leader and co-leader.
Now, obviously the two players have a great bond. They have played together for team India and now for Chennai Super Kings. Therefore, it is no surprise that on Dhoni's arrival to the practise grounds, Raina greeted him with a hug. Additionally, Raina placed a friendly kiss on Dhoni's neck as well. This entire moment between Raina and Dhoni is sending fans into the ultimate-fan-mode.
ADVERTISEMENT
Article continues below this ad
Chennai Super King's heartwarming IPL 2020 moment
Ever since this video arrived on Twitter, Chennai Super Kings fans are re-sharing it and expressing their admiration.
ADVERTISEMENT
Article continues below this ad
Raina and Dhoni's time to be back on-field
The last time anyone could witness MS Dhoni on-field was during the 2019 World Cup semifinal. Following India's exit, Dhoni was on leave, training with the army. On the other hand, Suresh Raina last played for the country during July 2018. It was an ODI between India and England at Leeds.
ADVERTISEMENT
Article continues below this ad
On another note, MS Dhoni is not a part of the contracts released by the BCCI for this season. Therefore, this IPL 2020 is a great opportunity for Dhoni to be considered by the selection committee for the T20 World Cup. While this is a great news for his fans, former cricketer, Kapil Dev is of the opinion that playing the IPL should not be the only consideration for Dhoni's selection. It is important that a player who is on leave plays other competitive events before being selected for T20 World Cup.