Ravi Ashwin Posts Mankad Style Dismissal of Jos Buttler to Aware Indians About Coronavirus
Published 03/25/2020, 6:19 AM EDT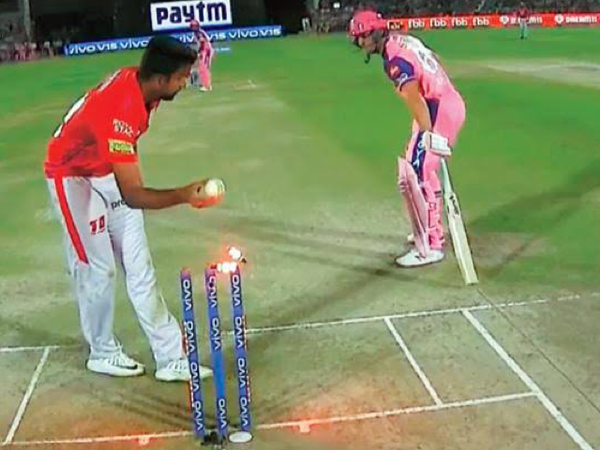 ---
---
The world needs to understand the severity of Coronavirus. Not only is it a time when everyone should come together to fight it, but also to follow the protocols. The only way to battle the virus is to indulge in social distancing. In fact, to aware the citizens, cricket players are using innovative methods. For example, Ravi Ashwin takes to twitter to use the Mankad style dismissal of Jos Buttler from Indian Premier League 2019.
ADVERTISEMENT
Article continues below this ad
Mankad style dismissal of Jos Butler one of the highlights of IPL 2019
During IPL 2019, Ravi Ashwin used the Mankad method to dismiss Jos Buttler when Kings XI Punjab played Rajasthan Royals. In this, the player is not run-out or bowled out, but the stumps are taken when the player is not in the crease. This method of dismissal is not illegal but does not incline with the spirit of the game.
ADVERTISEMENT
Article continues below this ad
The England team batsman was at the non-strikers end and went out of the crease before the ball was released. Therefore, Ashwin seized the opportunity and dropped the stumps with the ball.
The Test Cricket captain of the England team, Eoin Morgan, did not appreciate this at all. He said, "I can't believe what I'm seeing!! IPL Terrible example to set for young kids coming through. In time I think Ashwin will regret that."
Ravi Ashwin takes to Twitter to aware the nation about the importance of staying home
Now, Ashwin uses the image of him dismissing Jos Buttler using the Mankad method. He links this dismissal with the dangers of "wandering off". He says that it is important everyone understands why wandering off during the lockdown period is dangerous.
ADVERTISEMENT
Article continues below this ad
Hahaha, somebody sent me this and told me it's exactly been 1 year since this run out happened.

As the nation goes into a lockdown, this is a good reminder to my citizens.

Don't wander out. Stay inside, stay safe! #21DayLockdown pic.twitter.com/bSN1454kFt

— lets stay indoors India 🇮🇳 (@ashwinravi99) March 25, 2020
The Prime Minister of India, Narendra Modi, called for a 21-day lockdown of the entire nation. The truth is that this lockdown is necessary to ensure the virus does not spread anymore. If the spread is not curbed, then several lives will be in danger, especially, children and senior citizens.
ADVERTISEMENT
Article continues below this ad