Ravindra Jadeja Receives Praise from Sanjay Manjrekar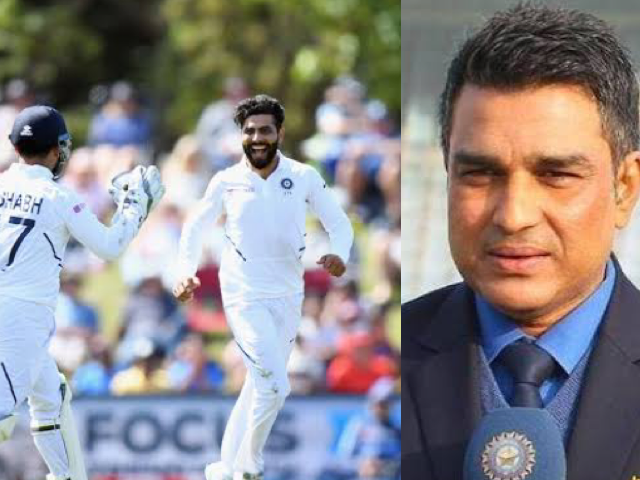 [video src="http://twitter.com/iceyesore/status/1234025218705891330"]
The Test series between India and New Zealand are currently on-going. During the second day of the innings, Ravindra Jadeja took a leap into the air to catch a boundary dismissing Neil Wagner. Now, both fans and his team members are exceptionally praiseful. However, commentator Sanjay Manjrekar, who once referred to Jadeja as a bits and pieces cricketer was full of praise as well.
It is clear from the video that his jump synchronises perfectly with the time of the ball. It seems as though there is a perfect connection between his hand grabbing the ball and his feet lifting him from the ground.
Read More: Ravindra Jadeja Turns Into a Superhero With a Catch
Now, both Wagner and the audience did not at first believe what they were witnesses to. It took everyone five seconds to come to terms with reality. That's when the crowd goes berserk and Wagner looks at the all-rounder with disbelief and admiration.
Here is a video of the Ravindra Jadeja catching the ball
This catch from India's Ravi Jadeja is indescribable. Have a feeling it'll make tonight's #SCTop10. (cc: @SportsCenter) #NZvIND pic.twitter.com/I62klS69jX

— Ben Baby (@Ben_Baby) March 1, 2020
Not only are the fans in a moment of shock, but so is Ridhima Pathak, the sports presenter. She used Twitter to express her admiration. Her caption to the video read "How do you do this?"
Okay . So..I mean..what..wait..

How do you do this. https://t.co/a3bCXVsaWw

— RIDHIMA PATHAK (@PathakRidhima) March 1, 2020
It was to this comment that Sanjay Manjrekar responded saying that if a player stays fit and truly enjoys fielding, then anything is possible.
Simple…be fit as a fiddle and enjoy fielding. Jadeja has both these attributes.👍😊 https://t.co/RSf4Rz1veJ

— Sanjay Manjrekar (@sanjaymanjrekar) March 1, 2020
The problem here is that fans do not forget when anyone utters a word against their favourite players. Therefore, it can be assumed that when Sanjay Manjrekar previously referred to Jadeja as a bits and pieces cricketer, there are fans who did not take it lightly. Ever since then, any time Manjrekar has tried to applaud the all-rounder, his fans took it upon themselves to troll him.
Here are a few comments by fans to Manjrekar
Account hacked!

— Yummy💙 (@Inima00) March 1, 2020
Oh i thought he is bits and pieces 😹

— Dr .BabaGorilla (@BabaGorilla_1) March 1, 2020