Rohit Sharma Lashes Out on Indian Media and Supports Rishabh Pant
Published 04/07/2020, 1:55 PM EDT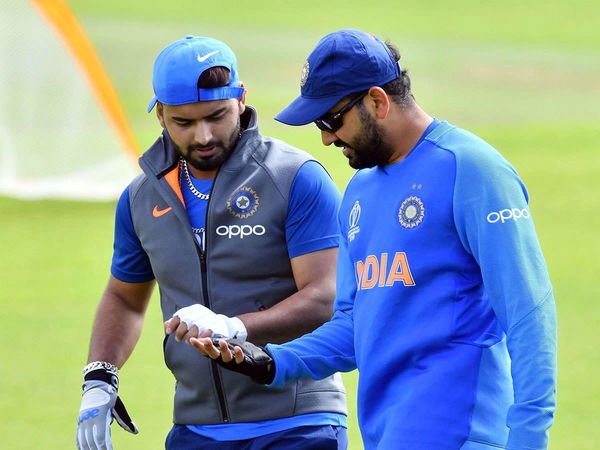 ---
---
The vice-captain of Indian cricket team Rohit Sharma had an interesting conversation with former Indian cricketer Yuvraj Singh on Instagram live. 
ADVERTISEMENT
Article continues below this ad
India is undergoing a lockdown period of 21 days due to the coronavirus outbreak. As a result, all the sporting events are canceled or suspended for an indefinite time. BCCI also had to defer the 13th edition of the Indian Premier League in the wake of the COVID-19 pandemic. 
While being in self quartination, Rohit Sharma is spending his time by conversing with the Indian cricketers via Instagram live. The Indian opener earlier interacted with Jasprit Bumrah and Kevin Pietersen. This time, former Indian all-rounder Yuvraj Singh was his guest. 
ADVERTISEMENT
Article continues below this ad
The two talked about a lot of things ranging from their first meeting to the role of social media, the importance of senior players and criticism by the media. 
WATCH: The Instagram live of Rohit Sharma and Yuvraj Singh
Fans should give time to youngsters: Rohit Sharma
During the interview, the vice-captain revealed that he tries to talk to the youngsters in the team. Rohit told that he interacts with 5-7 young players in the team. He tries to boost their morale so that they can play in the right direction. 
He also admitted that he mostly talks with the young wicketkeeper Rishabh Pant as the latter has to undergo a lot of criticism and trolling due to his bad form. 
Rohit lashed out at the media for their irresponsible behavior. He said that the media should be considerate of their writing about a young cricketer. 
ADVERTISEMENT
Article continues below this ad
He further acknowledged that he knows it is their job to write but they should keep in mind how it would affect the confidence of youngsters. 
Rohit backed Rishabh Pant stating that he is just 20 years old and people should give him space to perform. We also requested the fans to take a game in a sporting spirit and not slam the players for a bad performance. The fans should not troll the cricketers as they are also giving their 100% in every match. 
He also added that these are difficult times and the team would team a lot of positivity and support in the near future. The cricketer further said that the fans should support the team especially the youngsters in the coming months and should spread positivity. 
ADVERTISEMENT
Article continues below this ad
Yuvraj Singh supported Rohit Sharma by saying that it takes time to become a champion. Therefore the fans should have patience. Also, they should enjoy the game of cricket.