Rohit Sharma Takes a Friendly Jibe at Questions on MS Dhoni
There is a big question mark on the future of MS Dhoni in the Indian cricket team. MS Dhoni hasn't revealed his plans yet. As a result, there is a curiosity among the fans related to the fate of their favorite Mahi in cricket. Recently, Indian team vice-captain Rohit Sharma was asked questions regarding the return of MS in the National team. To this, Rohit gave a hilarious reply to all the cricket fans. 
The former Indian captain MS Dhoni last played for India in the semi-final match of World Cup 2019. India lost that match against New Zealand and was out of the tournament. Since then there has been no news regarding the comeback of MS in the team. 
On Thursday (April 23), Rohit Sharma got engaged in an interesting conversation with former player Harbhajan Singh. The two talked about a lot of things. They revealed their experience in their respective IPL franchises, future of Indian cricket, and their respective cricket careers. 
In the live session, the former spinner stressed on the fact that the Indian team batting line up relies heavily on Virat Kohli and Rohit Sharma. He also admitted that India could have won the World Cup 2019 if 3-4 players other than Virat and Rohit would have played consistently.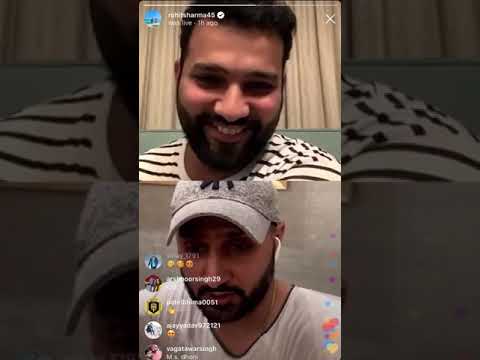 Rohit Sharma responds to the questions on MS Dhoni
During the live chat, fans were repeatedly asking Rohit to give them updates on MS Dhoni. To end such questions for once, the opening batsman gave a sarcastic reply. He said that he doesn't know anything about MS Dhoni as he is out of reach. Rohit further added that the fans can themselves go to his house in Ranchi and directly ask him. 
Rohit Sharma said, "When MS Dhoni is not playing cricket, he goes out of radar. He goes underground. Whoever wants to know, you can directly go to him, you know he stays in Ranchi. You can't go now but after the lockdown, you take a car, bike or flight go to his place and ask him 'What are you going to do? Will you play or not?'. We don't know what's happening with him. We haven't heard any news about him. The last match of the World Cup was in July. From there, till now we haven't heard anything I have no idea,"