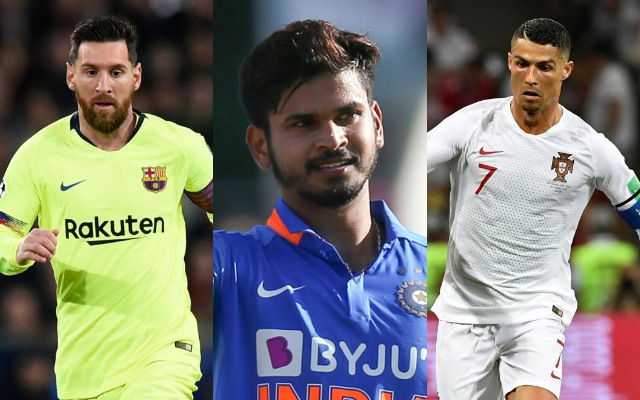 Today, the Indian cricketer Shreyas Iyer answered the questions asked by his fans on twitter. 
The world has been facing tough times due to the spread of novel coronavirus. Almost all the sporting events have either been canceled or postponed. BCCI also abandoned the IPL 2020 till April 15, 2020, after the government denied issuing visas to the foreign players. 
Therefore, many cricket players are enjoying being at home and are practicing self-isolation. Also, players are spending their free time interacting with their fans on social networking sites. The latest addition to this list is Shreyas Iyer. 
Hey everyone.. Haven't done a Q&A on Twitter before and what better time than now! Send your questions to me using #AskShreyas and I'll answer as many as I can. ✨ pic.twitter.com/ConuHRc8ja

— Shreyas Iyer (@ShreyasIyer15) March 25, 2020
One of the twitter users asked the batsman to choose between two football superstars, Messi and Ronaldo. 
#AskShreyas Messi or Ronaldo 🤔

— Vishwajeet. (@VishwajeetWagh6) March 25, 2020
The debate about who is best between Ronaldo and Messi has been never-ending. The game of football is predominantly divided into two halves; one who supports Messi and the other who supports Ronaldo. Both Ronaldo and Messi have been proving their worth in club as well as international football for more than a decade now. 
Shreyas Iyer makes a choice
Shreyas also made this tough choice between two legends. He chose Ronaldo over Messi. Ronaldo currently plays for Juventus while Messi is a part of FC Barcelona since the start of his football journey. 
Ronaldo https://t.co/mbU2UMVvxY

— Shreyas Iyer (@ShreyasIyer15) March 25, 2020
This is not the first time an Indian cricketer has prioritized Ronaldo over Messi. Earlier Indian skipper Virat Kohli also made a similar choice. Kohli had declared Ronaldo as a 'complete' player and had lauded his skills too saying that the Portuguese superstar is a phenomenal goal-scorer.
Moreover, Indian cricketers have a soft corner for this game. We have many times seen the Indian cricket team playing football during their practice sessions. Players like Virat Kohli and Rohit Sharma have often expressed their liking towards certain football teams and players in the past.