"Shut The F*ck Up" – Virat Kohli Reacts to Crowd Remarks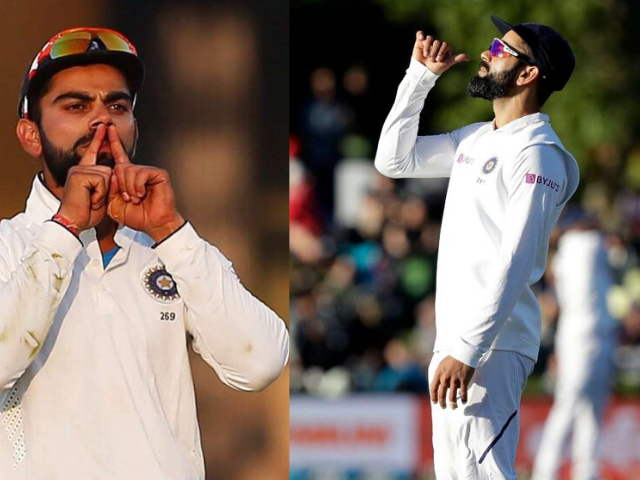 Indian Captain, Virat Kohli, is finding himself on the wrong side of fan remarks. Recently, due to the degradation in his performance, his skills are under question. However, the skipper does not stay calm for long and he did end up mocking the audience. Considering his batting performance for the innings is not meeting expectations, these remarks from the crowd are quite normal.
In the latest event, his mockery is directed towards the drunk crowd. First, he gestures the hand-signal equivalent of drinking to the crowd and proceeds to pretending being dizzy. While this may be hilarious for certain fans, there are some who are finding this behavior unprofessional. In fact, recently former Indian team captain, Kapil Dev, passed his own judgment on the unprofessional behavior of the U-19 players.
Here is the video of Virat Kohli's mockery
This was also towards the same

— King kohli⚔️ (@KingkohliEra) March 1, 2020
Now, this was not the only gesture he did. Before yelling "shut the f*ck up" to the crowd, he takes a brilliant catch. Mohammad Shami delivers a ball, following which Virat Kohli dives forward and takes a low catch. His effort is truly praise-worthy.
One of the primary reasons that he is getting all the remarks and comments is due to the performance he is recently showcasing.
Virat Kohli yells back at the crowd
Stfu. This is the @imVkohli we all know 🤫❤️ #INDvsNZTestCricket #NZvsIND #Kohli #ViratKohli pic.twitter.com/MXaps2RX5L

— Adish Shetty (@AdishShetty18) March 1, 2020
This is obviously not the first time that Virat Kohli is seen getting into a rift with the audience. During the debut Australia tour, he stuck his middle finger out at the audience who passed remarks at him.
On the other hand, there is Ravindra Jadeja who stuns the audience with this brilliant superhero catch. These innings between India and New Zealand are taking major twists and turns. While there is an entire fan base who want India to come out on top, there are people who have their reservations.
Read More: Ravindra Jadeja Turns Into a Superhero With a Catch