"The T20 World Cup Will Not Go Ahead" Says David Warner
Published 05/11/2020, 2:29 AM EDT
By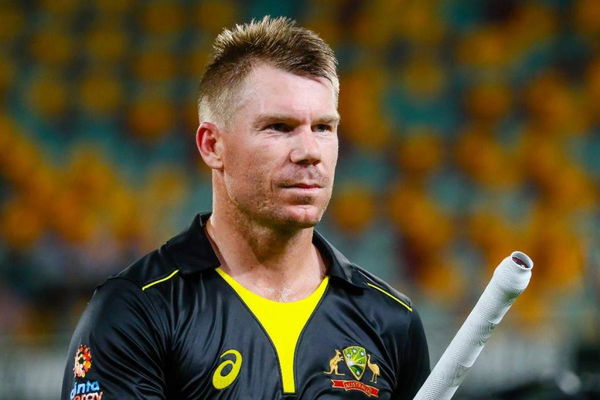 Australia's opening batsman David Warner is not very optimistic regarding the T20 World Cup this year in Australia. Cricket Australia is scheduled to host the T20 World Cup 2020 from October 18 to November 13. 
ADVERTISEMENT
Article continues below this ad
All the cricketing events have been canceled or suspended across the globe in the light of coronavirus pandemic. As a result, the fate of the T20 World Cup is uncertain. Cricket Australia is trying its best to host the tournament as it will help CA to recover from the financial crisis due to the COVID-19 pandemic. 
The Australian government has sealed its boundaries for 6 months to curb the spread of the deadly virus. Given these circumstances, Australian batsman David Warner feels that the ICC tournament will not go ahead this year. David Warner told Rohit Sharma in an Instagram live session, "The ICC World Cup will not go ahead here by the looks of it. It will be difficult to get everyone (16 teams) together," 
ADVERTISEMENT
Article continues below this ad

ADVERTISEMENT
Article continues below this ad
It was a bizarre experience: David Warner
The two terrific batsmen Rohit Sharma and David Warner talked about a lot of things during the live session. Warner also discussed the feeling of playing in an empty stadium with India's vice-captain. Australia and New Zealand played an ODI match against each other just before it was suspended due to the coronavirus outbreak. 
Sharing the experience, Warner said, "It was a bizarre experience. You could only hear the echo of a cricket ball. It was bizarre. We are used to calling 'yes and no' while running between wickets but we did not need to do that. It was literally like playing a warm-up game. It was surreal. I don't know how long you can sustain that. You gain your momentum from the home crowd," 
ADVERTISEMENT
Article continues below this ad
Rohit and Warner also discussed India's first test series win in Australia against Australia in 2018-19. Rohit Sharma believes that India's tour of Australia would be a great way to kick start cricket in the world. The Indian team is expected to play an ODI and test series with Australia in Australia after the T20 World Cup 2020. 
Rohit told Warner, "I love playing against Australia. When we won last time (in 2019), it was great for us. You guys (Warner and Steve Smith) were missing (due to ball-tampering bans)." He added, "What our bowlers and batters did there was amazing. I am looking forward to the upcoming tour already. I hope both boards manage to get the series underway. Will be a great way to kick off cricket in the world,"