Virat Kohli Shuts Down Reporter Questioning His Behaviour
Published 03/02/2020, 11:29 AM EST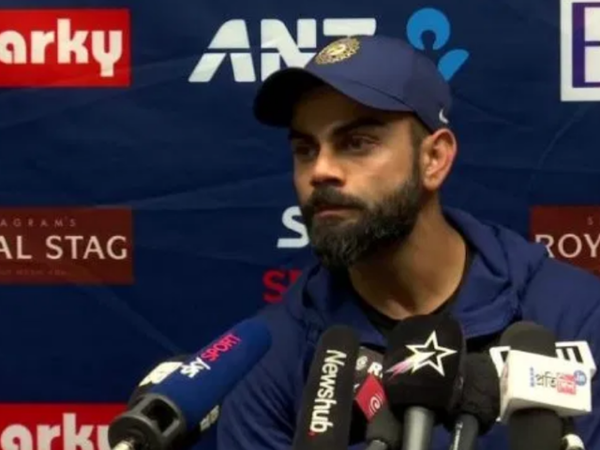 ---
---
Virat Kohli is one player who always demonstrates temper issues on-field. This is exactly what he did during the Test match series against New Zealand at Christchurch.
ADVERTISEMENT
Article continues below this ad
Gestures can lead to controversies
The audience of the match constantly kept hurling remarks and abuses at him. Much of these stem from the fact that the skipper is not really performing as one expects from him. Most of his scores are single or low double digits, no centuries in the last 20 innings, and one half-century in the last 11. As expected, his temper issues did not take the remarks lightly.
ADVERTISEMENT
Article continues below this ad
Soon after Kohli took a low dive to dismiss Williamson, he gestured to the crowd to keep theirs mouths shut. His manner of gesture is receiving terms such as "abusive" and "unprofessional".
After the match was over, Virat Kohli had to face a journalist who questioned his on-field behaviour. The reporter asked a direct and straightforward question.
"Virat, what's your reaction to your behavior in the field yesterday, swearing at (Kane) Williamson when he got out, swearing at the crowd. As an Indian captain, don't you think you need to set a better example on the field?"
Virat Kohli does not stay calm
Anyone who possesses a slight idea about Kohli will know that he did not take this question lightly. In fact, he put his guards up and suggested to the reporter that unless all facts are gathered, questions such as these must be avoided. Additionally, he mentioned how the match referee did not have a problem either.
"You need to find out exactly what happened and then come with a better question. You can't come here with half questions and half details of what happened. And also, if you want to create controversy, this is not the right place to be."
ADVERTISEMENT
Article continues below this ad
To be fair, this is not the first time Virat Kohli is on the receiving end of such questions. Previously, during India's West Indies Tour, both him and Bumrah gestured to the crowd to remain silent. Next, during the initial stages of his Test career, he signed a vulgar gesture to the Australia crowd. Upon getting heat from the match referee about the same, he issued an apology for his behaviour.
ADVERTISEMENT
Article continues below this ad