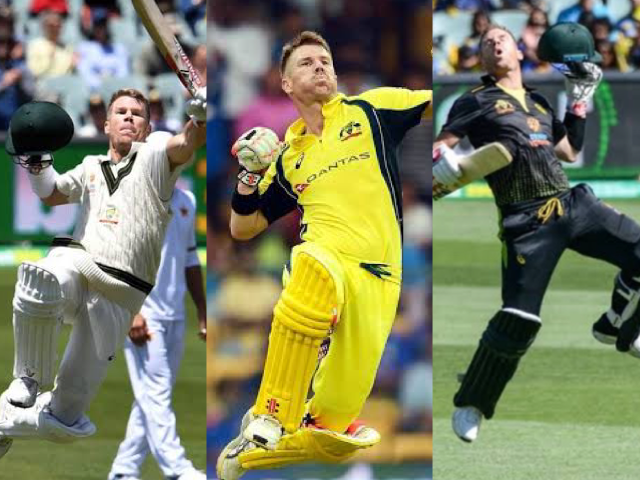 David Warner, the player who is taking the Internet by the storm. No, it's not because of his skills as a cricketer but at this point it's because of his exceptional creativity skills.
David Warner continues to show his creativity skills through several TikTok videos
So, ever since the lockdown started and everyone started confining themselves in their house, David Warner started making amazing TikTok videos. Most of them feature his wife Candice and two daughters and some of them it's just him performing on songs. All of his videos gathered a large audience.
Coming to the player he is, Warner is one of the top players across all three formats of cricket. His scores on the charts are exceptional. The Australian batsman scores are the following:
Test Cricket – 7,244 runs from 84 matches.
ODIs – 5,267 runs from 123 matches.
T20Is – 2,207 runs from 79 matches.
Overall, the legend has a total of 43 centuries in his bag of achievements.
The Australian batsman reveals his favourite cricket format
Therefore, this time David Warner decides to give his audience a piece of information about himself. In this latest TikTok video he reveals his favourite cricket format.
When the video begins, he is standing in front of a mirror and starts swiping his reflection. This point onwards his T-shirt changes to his T20I jersey first. Following this it changes to his ODI jersey. Finally, it changes to his Test Cricket jersey and he begins to celebrate with joy. This is a rather innovative approach to reveal his favourite format.
His caption for the video reads: "Here it is, my favourite form of cricket. What do you think??".
My favourite form of the game is??? #guess #cricket #fun #swipe pic.twitter.com/Cqhq28NG5Z

— David Warner (@davidwarner31) May 27, 2020
David Warner is one of the players who has been quite active on social media since the beginning of the global lockdown. Whether he is doing this to keep himself sane or for his fans will never be known, but it sure is keeping his fans and audience entertained. However, everyone is eagerly waiting to see the players return to the field and show their magic with the bat and ball.