Watch: MS Dhoni Hits Five Big Sixes Back to Back in Net Session Ahead of IPL 2020
Published 03/06/2020, 10:43 AM EST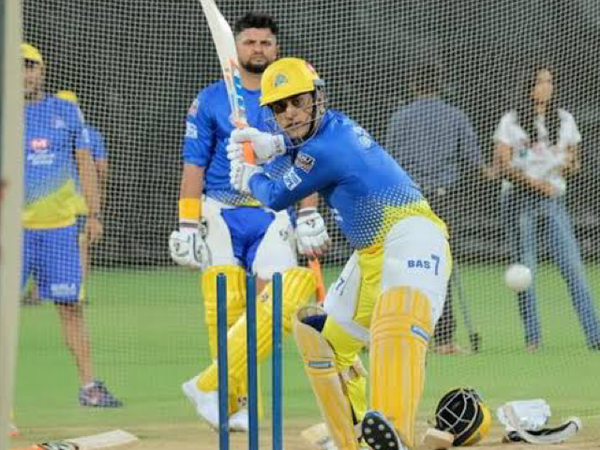 The one time when all the cricket fans of India break unity is during the Indian Premier League. At this point supporting the city or favourite player becomes priority. MS Dhoni is one player whose fans are entering the fan-craze mode. The former Indian skipper is returning to the field for the first time since the 2019 World Cup semi-finals. His absence did not only impact his team but also his fans.
ADVERTISEMENT
Article continues below this ad
Currently, all the players of different franchises are regrouping. All the teams are coming together and beginning their practice for the 13th season of the cash-rich event. Chennai Super Kings have already begun their practice together. Both team mates and fans are showing constant enthusiasm and appreciation since MS Dhoni's arrival at the Chepauk stadium.
During one of Chennai Super Kings's practice session, MS Dhoni tackles five deliveries with consecutive sixes. This video is making rounds of social media. The original video was uploaded by Star Sports Tamil.
ADVERTISEMENT
Article continues below this ad
Here is the video of MS Dhoni hitting five sixes
ADVERTISEMENT
Article continues below this ad
BALL 1⃣ – SIX
BALL 2⃣ – SIX
BALL 3⃣ – SIX
BALL 4⃣ – SIX
BALL 5⃣ – SIX

ஐந்து பந்துகளில் ஐந்து சிக்ஸர்களை பறக்கவிட்ட தல தோனி!

முழு காணொளி காணுங்கள் 📹👇

#⃣ "The Super Kings Show"
⏲️ 6 PM
📺 ஸ்டார் ஸ்போர்ட்ஸ் 1 தமிழ்
📅 மார்ச் 8
➡️ @ChennaiIPL pic.twitter.com/rIcyoGBfhE

— Star Sports Tamil (@StarSportsTamil) March 6, 2020
His return to the field is bringing utmost joy to both his fans and the Chennai Super Kings franchise. On the other hand, Indian cricket legend, Kapil Dev is not impressed with all the focus and fixation that everyone has on Dhoni this time during Indian Premier League. He feels that this platform is a great way for the selectors to scout for fresh talent. Considering, T20 World Cup is coming up, everyone is expecting that the selection committee will fixate on Dhoni and bring him back to the team.
ADVERTISEMENT
Article continues below this ad
Related: "It's not just MS Dhoni who is playing the IPL", says Kapil Dev
Unfortunately, Dhoni has been on sabbatical and not played any competitive matches in the recent past. Due to this Kapil Dev feels that any player who is away from the field for this long should play other competitive matches before being considered for a World Cup team.