WATCH: Sachin Tendulkar Juggles Ball With The Side Of His Bat Blindfolded
Published 05/16/2020, 6:46 PM EDT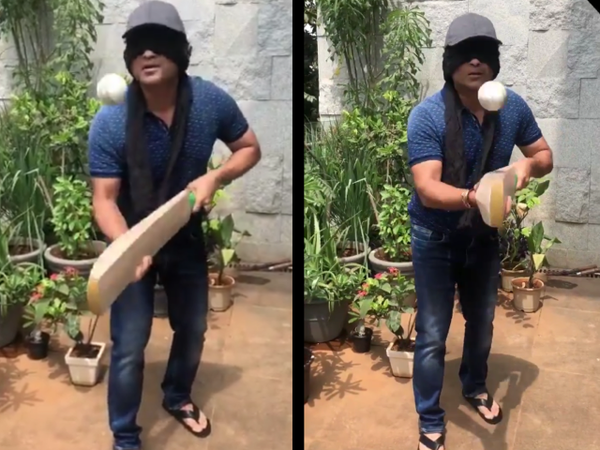 ---
---
Sachin Tendulkar, the God of Cricket, has a flair for being competitive. We saw that when he was on-field for the Indian team and now we see it over social media.
ADVERTISEMENT
Article continues below this ad
Yuvraj Singh posts a challenge on Twitter for Sachin Tendulkar, Rohit Sharma, ans Harbhajan Singh
So, a couple of days back Yuvraj Singh posted a video on social media where he is juggling the ball with the side of his bat. Next, he nominated Sachin Tendulkar, Harbhajan Singh, and Rohit Sharma to try the same. This is one of the ways of him showing his commitment to staying home during the lockdown period.
ADVERTISEMENT
Article continues below this ad
In his caption he writes, "In these challenging times, I am committed to staying at home to prevent the spread of #Covid19 and will #KeepItUp as it is required. I further nominate master blaster @sachin_rt, hit man @ImRo4 and turbanator @harbhajan_singh @UN @deespeak."
Master Blaster responds with a twist
Now, master blaster Sachin Tendulkar did respond to the challenge but with a twist. He posted a video doing the same challenge but with a blindfold.
In his caption, he writes, "I am challenging you back @yuvisofficial, but this time with a twist!! All I ask everyone to do is take care and stay safe!"
However, we all know Sachin Tendulkar has a heart made of gold. Therefore, after posting the video he revealed how he managed to pull off the task. Apparently, the black cloth that he used was a see-through one. This enabled him to make sure he could see the ball and do the juggling. Even Yuvraj Singh commented on the video.
In such trying times all players are doing something or the other to keep their fans entertained. For example, David Warner continues to make TikTok videos with his wife and daughter. All the videos are highly entertaining. These small things go a long way for the audience who supported them from the stadium stands.
ADVERTISEMENT
Article continues below this ad
WATCH: David Warner Levels Up His TikTok Skills With Dialogue From Baahubali
ADVERTISEMENT
Article continues below this ad