WATCH: Shoaib Akhtar Takes His Cycle Out at Islamabad Violating Lockdown Protocols, Receives Backlash from Fans
Published 04/12/2020, 12:13 PM EDT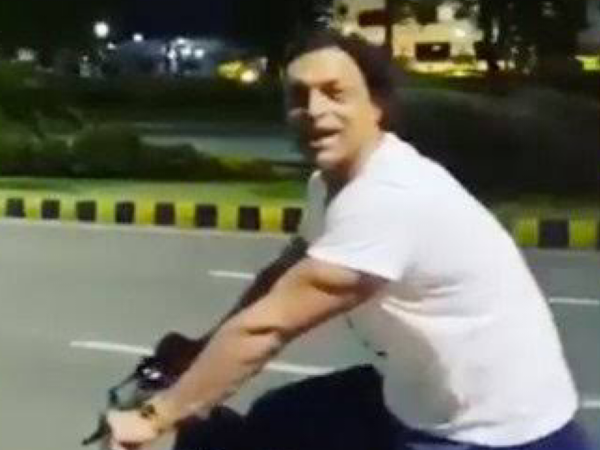 It is absolutely imperative that players, celebrities, and citizens across the globe take the lockdown protocols seriously. However, it seems as though former Pakistan Cricket team player, Shoaib Akhtar, is going against it. He decides to take a cycle stroll and is now facing negative comments from his fans and other citizens of Pakistan.
ADVERTISEMENT
Article continues below this ad
In this video, Shoaib Akhtar is cycling down the roads of Islamabad, the capital of Pakistan. His caption reads "Cycling in my beautiful city. Lovely weather. Empty roads.Best work out. #islamabad #pakistan."
Here is the video by Shoaib Akhtar
ADVERTISEMENT
Article continues below this ad
However, his fans and other users of Instagram did not take to this positively. Everyone urged the player to understand how this might cause a ripple effect and others will step out as well. Considering Shoaib Akhtar is not wearing a mask as well, even this comes up in the comments.
One of the comments on his video says that while it's great that the weather is good, stepping out is not at all a great idea considering the Coronavirus situation.
"Yes lovely weather but you are a celebrity and our people blindly follow you. Do you want people to come outside without mask and get infected with corona."
ADVERTISEMENT
Article continues below this ad
Another user points out how other celebrities around the world are urging everyone to stay inside, here Shoaib Akhtar himself is stepping out with his cycle.
"Celebrities of the world are giving awareness to common people about COVID 19, and then we came up with our role models who is doing this nonsense in Lockdown situation and making it public."
Read More: "Don't go out on the streets celebrating. World Cup is still some time away" – Rohit Sharma on Battle Against Coronavirus
ADVERTISEMENT
Article continues below this ad
Akhtar's suggestion for a series between India and Pakistan did not receive positive feedback
Recently, Shoaib Akhtar said that a 3-match series between India and Pakistan will be a great way to raise funds. This idea was shot down by numerous individuals including India's former skipper Kapil Dev. Furthermore, he even said that if India donates 10,000 ventilators to Pakistan, the gesture will not be forgotten.