"Yeh Ek Nahin Yeh Gyarah Hai" Saqlain Mushtaq on Virat Kohli
Published 06/13/2020, 6:05 PM EDT
By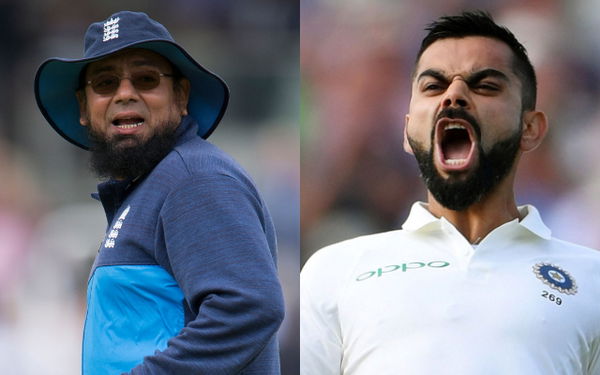 Former Pakistani cricketer Saqlain Mushtaq believes that the Indian cricket team skipper Virat Kohli is 'like XI players in one'. Mushtaq revealed that he used to always advise Moeen Ali and Adil Rashid to focus on getting Kohli out as the whole Indian team depends upon him. Virat Kohli is arguably the world's leading batsman in all the three formats of the game. He is the only batsman in the world to have achieved the 50+ average across all three formats. 
ADVERTISEMENT
Article continues below this ad
In an Instagram live session with Nikhil Naz, Mushtaq said, "Yeh ek nahin, yeh gyarah hai (he is equal to 11 players). I would just tell them Virat's wicket is like bowling out the entire Indian team. He is like XI players in one, you have to see him like that," 
The 43 old added, "As a bowler, you have to be clear in your mind. Yes, you have a world-class player who is at the top of his game and does not face any issue against any type of spinner, be it left-arm, offie or a leggie. But I would tell them the pressure is more on him not you, as the whole world is watching him. You have to be clear in your mind."
ADVERTISEMENT
Article continues below this ad

Best dismissal of Virat Kohli
During the live chat, Saqlain Mushtaq also put forward his opinion on the best dismissal of Virat Kohli in cricket. Saqlain feels that leg-spinner Rashid bowled one of the best balls during the Headingley ODI in 2018 to the Indian captain. Mushtaq had labeled that delivery by Rashid as "Virat-wala delivery". He also made sure that the England team did it's homework well when it comes to facing Kohli on the match field. 
Saqlain told Nikhil, "It was a wide ball and had a lot of drift and clipped the bail. I would tell him to bowl Virat-wala delivery so that he keeps producing that at the nets. It's about putting your soul into the ball. Yes, he's the No 1 player in the world. But if you put your plan, imagination, feeling, and passion into the ball, you are no less."
He signed off saying, "As the No 1 batsman, he will have an ego. If you bowl a dot ball to him his ego will get hurt. And if you trap him and get him out, he will be really sad. It's a mind game, you have to keep your standard high."