Yuvraj Singh can be Arrested for Making Casteist Remark on Yuzvendra Chahal
Published 06/04/2020, 9:03 AM EDT
By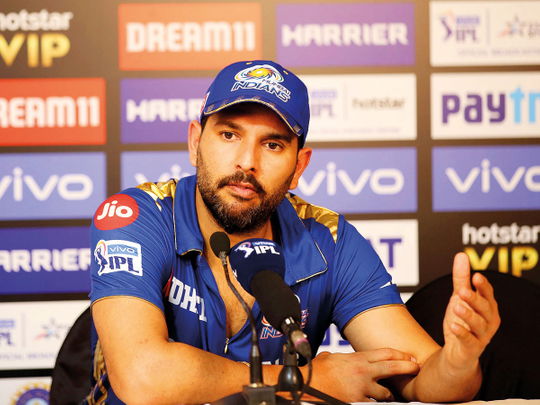 Yuvraj Singh can get in trouble due to his casteist comment on Indian cricketer Yuzvendra Chahal. In an Instagram live session with Rohit Sharma, Yuvraj had criticized the Indian bowler for his Tik Tok videos. He had casually called him 'bhangi. Both Rohit and Yuvraj took this in a fun way. 
ADVERTISEMENT
Article continues below this ad
Yuvraj had said, "Yeh b***gi log ko kaam nahi hai yeh Yuzi aur isko (Kuldeep)."
To this Rohit replied, "Yuzi ko dekha kya video daala hai apni family ke saath. Maine usko wahi bola ki apne baap ko nacha raha hai, pagal toh nahi hai tu," 
ADVERTISEMENT
Article continues below this ad
However, people didn't take this lightly and Yuvraj was trolled for making such a statement. Yuvraj's comment is considered as a personal remark on Chahal's caste. Some people termed it as discrimination on the basis of caste. The hashtag #युवराज_सिंह_माफी_मांगो is trending on twitter in India with more than 30,000 tweets. Netizens want the former Indian all-rounder to make a public apology for his casteist slur on Chahal. 
ADVERTISEMENT
Article continues below this ad
FIR against Yuvraj Singh
Now, some Dalit rights activists in Haryana have lodged a complaint against Yuvraj Singh. Dalit rights activist and advocate Rajat Kalsan has filed a complaint in Hansi police station in Hisa, Haryana. 
Rajat accused Yuvraj of hurting the sentiments of the Dalit community in India. He added that the remarks made by the cricketer were intentional to degrade and defame a specific community. The written complaint read, "I request you to press appropriate charges against Yuvraj Singh and arrest him," 
ADVERTISEMENT
Article continues below this ad
Further, Kalsan has demanded the arrest of the legendary Indian batsman. He also targeted Indian vice-captain Rohit Sharma for not opposing Yuvraj over the comment instead was laughing with him. 
Meanwhile, Hansi SP Lokendra Singh has said that he has submitted the investigation to DSP. He further stated that all aspects will be investigated and action will be taken after the investigation happens.