Yuzvendra Chahal Releases TikTok Video Featuring Rohit Sharma and Khaleel Ahmed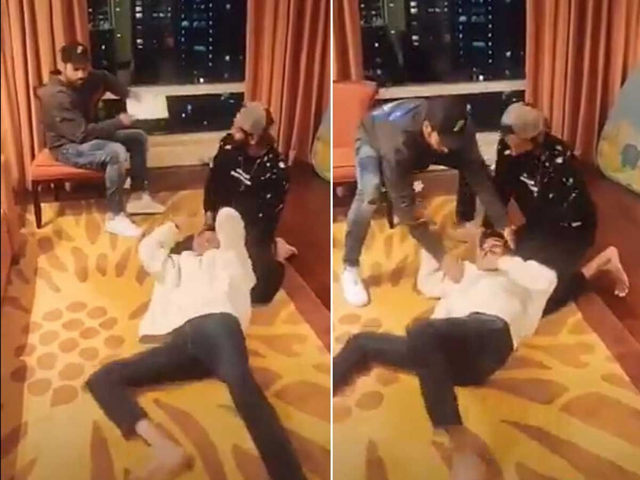 Yuzvendra Chahal, the Indian spinner, recently took to twitter to share his latest TikTok video. Soon afterwards fans started commenting about how hilarious it is. In this video Chahal recreates a famous scene from the Bollywood movie, Dhol.
Yuzvendra Chahal recreates Bollywood scene
In the video, Chahal is seen lying on the ground. Next, Khaleel Ahmed assumes Chahal has his head twisted and rushes to help him. On seeing Ahmed panicking, even Rohit Sharma joins him to help Chahal. However, right after the two of them ran to him, Chahal stands up to explains what was happening. In fact, it was his jacket which was giving the illusion of a twisted head.
We are back 😂😂 @ImRo45 @imK_Ahmed13 pic.twitter.com/THo3qiD7Qt

— Yuzvendra Chahal (@yuzi_chahal) February 25, 2020
Fan's react to Chahal's video
This video was good enough for fans to enjoy. The comments have been pouring in since he uploaded the video.
Haha… Ro…he is so cute💙♥️😍@ImRo45

— Riya Agrahari (@Riyaagrahari8) February 25, 2020
Matlab cricket bhi tumlog khelo
Tik tok bhi tumlog hi banayo….

To hum log kya kare 😭😭 ye bhi bata do

— Priyamvada🇮🇳🇮🇳 (@Priyamvada22S) February 25, 2020
Obviously, it's a bit strange that while India is playing New Zealand in a Test series, these three players are making videos. Well, all three of them have different reasons for not being a part of the squad.
Rohit Sharma suffered a serious calf injury during the T20I. As a result, he could not be a part of the team. He is currently recovering. Chahal has not yet achieved his first Test cap. However, he was a part of limited-overs earlier during the tour.
Finally, Khaleel is not a part of India's plan under any of the formats. The upcoming Indian Premier League is extremely important for him. The better he performs there, the better will be his chances with the selection committee. His debut for the Indian Premier League was with Delhi Capitals. However, soon afterwards he was bought by Sunrisers Hyderabad and will be playing for them this season as well.
The IPL 2020 begins on the 29th of March. The first match is between Chennai Super Kings and Mumbai Indians.