Cricket Pundits Slam ICC over 'More Boundaries' Rule to Decide World Cup Winners
Published 07/15/2019, 4:21 AM EDT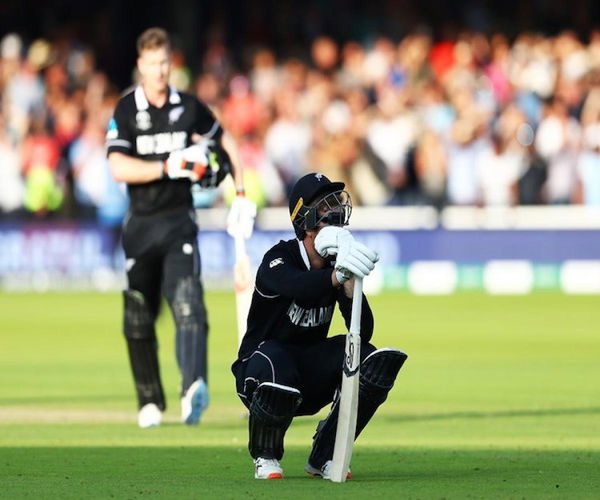 ---
---
England won the ICC Cricket World Cup 2019. Not by runs, not by wickets. But by boundaries. The ICC rule which said that in case of a tied super over, the team scoring more boundaries would be declared as winners worked in favour of England on Sunday. England had scored 21 boundaries overall compared to New Zealand's 16. This did not go well with many of the fans and cricket experts all over the world. Fans and pundits took to twitter to point out the flaws in the rule. It is still hugely debated whether trophy should have been shared.
ADVERTISEMENT
Article continues below this ad
Senior cricket analyst, Joy Bhattacharjya, suggested an alternative to decide the winner in case of a tied super over. Many felt that England's victory was unjust on New Zealand. Bhattacharjya, who was the man who initiated ESPN's fantasy game in 2001, also felt that New Zealand had the right to feel unjust.
He stressed on the point that the teams which score by running hard between the wickets are on the wrong side of the rule. "I really don't like the rule of the team scoring the maximum boundaries winning a tied match. It puts an accent on big hits and does not reward teams that run harder," he wrote in a tweet.
ADVERTISEMENT
Article continues below this ad
Some rules in cricket definitely needs a serious look in.

— Rohit Sharma (@ImRo45) July 15, 2019
Bhattacharjya, a mathematician who has been using his skills  for cricket analysis, also suggested an alternative to the rule. "How about one where, in case of a tie, we take out extras. The team with most runs with the bat win," he further added in the tweet.
This might seem fair enough in away considering that it is still the runs scored that is being considered. But in a way, it is not flawless considering that in disciplinary bowling is not punished and in fact it can also be argued that the bowling team conceded runs via extras and it was completely their fault.
The debate is never-ending. But nobody hailing from the place where the sport was invented would mind. England, at least for now would be thankful to the rule. Because England are the World Champions.