Redemption Time For Cook
Published 12/09/2014, 2:37 PM EST
By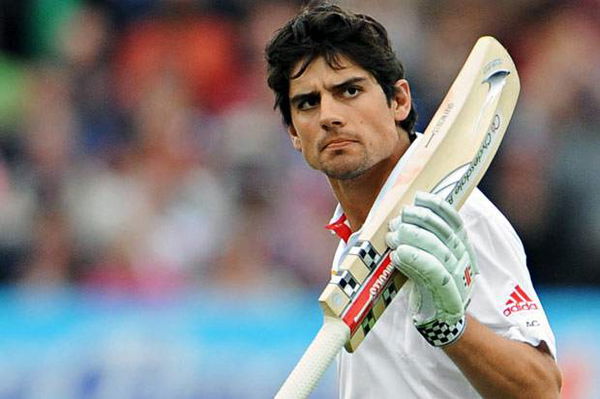 With the upcoming Test Match series between India and England drawing ever closer, many eyebrows have been raised over the captaincy of Alastair Cook, who has not had the most impressive past 12 months. In an outspoken column in the Telegraph, Australian great, Shane Warne said," His captaincy at Lord's was terrible, then on Monday at Headingly I witnessed the worst day of captaincy I have ever seen at international level in almost 25 years in the game. It was horrific, and I am not the only one singing that tune."
ADVERTISEMENT
Article continues below this ad
Cook's batting average has not been above 24 since The Ashes series last year and Warne's abysmal criticism cannot be considered baseless. Kevin Pietersen also had a word or two to say about Cook by calling him 'A rabbit in the headlights'. Not only has Cook not been amongst the runs, but he has also looked very vulnerable at the crease leading to a number of top order collapses for England in the recent past, since they have been so used to him being the catalyst to putting up respectable scores. He has been very tentative outside his off-stump too, and the high number or LBW dismissals clearly indicate a lack of footwork and decisiveness on his part.
That type of dismissal preys on Cook's mind. He knows he has not been genuinely bowled out but has been lured into an avoidable error. He has worked hard to try and eradicate that minor flaw from his game. As he will never be an intimidating batsman in the Matthew Hayden mould- someone who used to plunge onto the front foot and assault the bowler; his solution is to leave as many deliveries as possible outside off. The idea is to persuade the bowlers to aim straighter so that he can pick runs off on his preferred leg side.
ADVERTISEMENT
Article continues below this ad
The lack of stability at the top of the batting line-up has been a major cause of concern for the English fans and has forced selectors to try a number of opening combinations along with Cook such as Nick Compton, Michael Carberry and the latest being Sam Robson. With Cook not having a century against his name since 24 Test Match innings, the additional pressure levied on the newcomers has not allowed them to blossom either. It is high time that the England selectors considered a change in the line-up.
Does captaincy allow you to soar like an eagle or is it an albatross around your neck? Off late, the latter has proved to be true more often than not. At 277-6 with a lead of 160 odd runs, one would say that Sri Lanka was on the backfoot with plenty of overs to spare since the pitch wasn't deteriorating rapidly. The fact that they managed to score 457 proves the lack of efficient and mindful leadership on the part of Cook. It was a similar case in the First Test Match of the series, where Sri Lanka managed to salvage a draw despite being perilously close to defeat.
ADVERTISEMENT
Article continues below this ad
Inevitably, the slump in his batting form has affected his captaincy. The fact that England have lost from winning positions in the previous 2 Test Matches clearly indicates the lack of decisiveness and peremptory leadership. A couple of days ago, Kiwi legend Martin Crowe said, "When a player like Alastair Cook fronts the press so often, spinning a contrived message is the only option, especially when vulnerable." This clearly summarises the English captain's tale of woes over the past year.
Unexpected support has come from the rival Indian camp, with the pair of Duncan Fletcher and Mahendra Singh Dhoni sympathising with him. "For however long he's (Cook) struggled, give me one player who hasn't been through that period for that length of time," Fletcher said on Wednesday at Grace Road. "I remember Mark Taylor. How long did he not get a run for? Australia kept him on as captain. He went through a big period where he didn't get any – and they kept him. It's as simple as that."
Support also came in from team-mate Ian Bell saying that, "As a group, we've got to help him (Cook). We've got to get right behind him and start performing as a team. He's got more hundreds than anyone in an England shirt and he's been one of the best batsmen I've ever played with. Form is temporary. One innings and he'll be flying again". Stuart Broad, too, was adamant that the tide was bound to turn. "I certainly think Cooky is the right man for the job now and once he gets one hundred under his belt I think he'll get many more – I'm just looking forward to that hundred celebration when he does it," Broad said.
ADVERTISEMENT
Article continues below this ad
With the India series as a perfect atonement, Captain Cook must have an augmented performance to continue with leadership duties. "If someone decides I'm not the right person for the job and the results don't justify me doing it, then fine. I've never quit on anything I've done," Cook said.
Cricket is a game full of forlorn hopes and sudden dramatic changes of fortune. Will Captain Cook pull something out of the box for the Englishmen? Or will the Indians prove to be more than a handful for a captain who might be on his last straw?