Cristiano Ronaldo Enlists Olympic Sprinter to Improve Speed
Published 07/01/2019, 5:36 AM EDT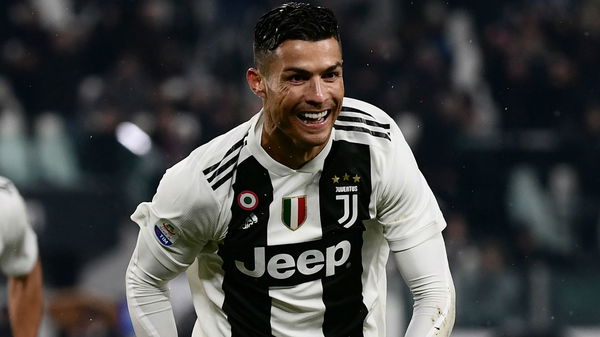 ---
---
A number of Cristiano Ronaldo fans are aware that the Portuguese star is not as quick as he used to be. This is largely due to the fact that age is starting to catch up with him, given that he is 34 years old.
ADVERTISEMENT
Article continues below this ad
However, he is still one of the best football players out on the pitch and his statistics and records prove it. Cristiano Ronaldo is able to keep pace with players who are much younger than he is. What also works in his favour is his relentlessness in trying to imporve himself as a player constantly.
Last month, Cristiano Ronaldo led the Portugal team to the Nations League trophy, beating Netherlands in the final. Now, the star striker has taken a well-deserved vacation in some of Europe's finest locations. After that, it was back on the grind once again as the Juventus striker began to work on his speed ahead of the new season – with some help from an expert.
ADVERTISEMENT
Article continues below this ad
Recently, Cristiano Ronaldo posted a video to his Instagram account training with Nigeria-born Portuguese athlete Francis Obikwelu.
Obikwelu is a 100m and 200m specialist, and was also a silver medalist at the 2004 Athens Olympic Games.
He clocked 9.86 seconds in the Athens 100m final, which is still a European record, although it has been matched twice since by Frenchman Jimmy Vicaut. It was the first medal in an athletics sprinting event for Portugal.
He also won the 100m and 200m gold at the 2006 European Championships.
Ronaldo didn't make the top five fastest players list in the Champions League last season.
Leading up to the final between Liverpool and Tottenham Hotspur, Liverpool's Virgil van Dijk was officially the fastest in the competition, having clocked 34.5kph against Barcelona.
He was closely followed by Manchester City's Leroy Sane (34.4kph), Nemanja Radonjic of Crvena Zvezda (34.2kph), Kyle Walker of Manchester City (34.2kph) and Real Madrid's Gareth Bale (33.8kph).
Francis Obikwelu don over blow …baba go chop money 💰 tired too …Cristiano Ronaldo wrote on his I.G page and upload a video about both of them ..It seems Obikwelu is now his sprint personal trainer 🤔🤔

— 🌟KING OF LAGOS(MFR) (@Derek74399105) June 30, 2019
ADVERTISEMENT
Article continues below this ad
Just saw a video of Francis Obikwelu (Athens olympics silver medalist) training with Cristiano Ronaldo. changing nationality was the best decision he made.

— BRAVE (@Brave931) June 30, 2019
ADVERTISEMENT
Article continues below this ad
Even legends still need publicity. Most of those who know Cristiano Ronaldo globally, might never have heard of Francis Obikwelu.

— Bright Eugene VII (@BryteDude) June 30, 2019