Cristiano Ronaldo Walks off the Field Angrily; Expected to have Left the Stadium early
Published 11/12/2019, 7:21 AM EST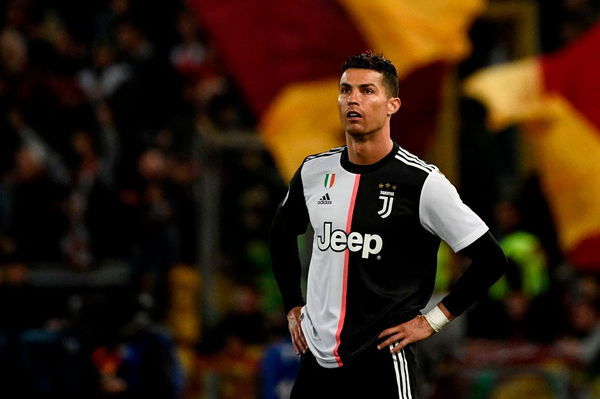 ---
---
Cristiano Ronaldo walked off in what looked an angry manner during the game between Juventus and AC Milan on Monday.
ADVERTISEMENT
Article continues below this ad
Ronaldo was substituted by manager Maurizio Sarri just 10 minutes into the first half, much to the disappointment of the fans and Roanldo alike. With the game still goalless, one would assume keeping Ronaldo on the field to create a spark. However, Sarri felt otherwise and subbed the Portugal international for Paulo Dybala.
Ronaldo was also said to have left the stadium early in anger, the legitimacy of which still remains to be confirmed. However, if he did leave the stadium early, he might be in a danger of being hit with a ban assuming he missed an anti-doping ban, according to former Italian footballer Antonio Cassano.
ADVERTISEMENT
Article continues below this ad
Reacting to Ronaldo's reaction, goalkeeper Szczesny said: "I think it is normal for a champion to get a little angry when he leaves the field. He will return in better physical condition and, as he has always done, will make the difference in the decisive phase of the season.
"In recent weeks he has not trained at 100 per cent, after the international break it will be better. We all know the qualities and personality of Ronaldo."
Sarri's decision, in the end, turned out to be a masterstroke as it was the substitute Paulo Dybala who scored the winner in the 77th minute, which was the only goal in the match.
ADVERTISEMENT
Article continues below this ad
"We must thank Ronaldo, because he made a sacrifice to be there at all tonight in a difficult situation," Sarri told Sky Sport Italia post-match.
"He did everything possible to play, but I saw he was not well and thought it best to take him off. It's only natural a player is going to be irritated to leave the pitch, especially when he worked so hard to be there.
"Over the last month, he has had this little knee problem, he had a knock in training and it hurt the collateral ligament. When he trains at high intensity or plays, it unbalances him, so he ends up overcompensating and it damages the calf and thigh muscles.
ADVERTISEMENT
Article continues below this ad
"It is affecting his performances and he is not at his best at the moment. All players who are trying to give their best will have at least five minutes of being annoyed when they are substituted, but a coach would in general be much more worried if he didn't seem upset."