The Curious Case of Ajinkya Rahane
Published 12/09/2015, 12:55 PM EST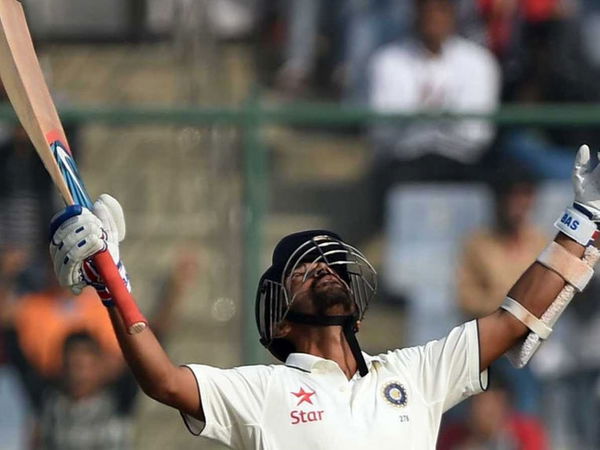 ---
---
If there is one thing common all over the world is the amount of adulation that is given to sports stars. Soccer players in England, football players in USA, cricketers in India; they're all treated akin to demigods. Actress/model girlfriend. Check. Sports cars. Check. Attitude. Check. Endorsements. Check. Million dollar contract. Check. That's your average successful sports superstar. Flamboyance. Yes, that's word.
ADVERTISEMENT
Article continues below this ad
Yet, for all the adjectives that one can associate with Ajinkya Rahane- meek, mild, shy, introverted, calm, disciplined – flamboyance cannot be one. No sledging, swagger on the field, angry or over-the-top century celebrations, cuss words or aggression. He just quietly goes about his job, be it batting or fielding.  Just one of the many similarities he shares with the Indian greats – ,, Dravid and Laxman.  But therein lies the contradiction as peers include the likes of Rohit Sharma, Suresh Raina, and Virat Kohli, players far more evocative both on and off the field.
A Star is born
ADVERTISEMENT
Article continues below this ad
Born into a lower-middle class Maratha family in 1988, Rahane's first experience with formal cricket training came at the age of seven, when his father took him to a small coaching camp in Dombivli, a city in the Thane district of Mumbai. Not known for its cricket pedigree, Dombivli does not even have a proper cricket ground. Apart from Rahane, the only other test player from Dombivli is Nilesh Kulkarni, the wily left arm spinner who struck with his first ball in test cricket, picking up the wicket of Marvan Atapattu in a match remembered for Sanath Jayasuriya's mammoth 340.  Both, incidentally are from SV Joshi School and have been coached by Raj Dhotre, a man so obsessed with cricket that he quit his well-paying corporate job to coach. As there weren't any cricket grounds in Dombivli, Rahane, as a kid, would often travel over 50 km in the crowded Mumbai locals to play matches against schools much more renowned for their cricketing spurs.
Anyone who has been in such locals could tell you how cramped, humid and claustrophobic the Mumbai locals are, especially during peak hours. Travelling in one leaves one completely drained physically as well as mentally. And then, playing in the hot, humid Mumbai weather, and coming home. Next day, the routine starts all over again. Many a time, he would come home from practice one day, soak his whites and wear them again the next day.  If that kind of grind doesn't inculcate in one a sense of purpose and discipline in life, then what will?
"When I was young, playing a cross-batted shot meant I could break my bat," he once said about his technique. "I couldn't afford that. Bats are expensive."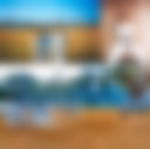 Emulating his idol, Rahul Dravid, Rahane worked his way up the chain in one of the most gruelling, unforgiving and competitive domestic setup in the country. It is often said that it is easier to break into the national side then it is into the Mumbai Ranji Side.  Rahane represented Mumbai from the Under-14 level and India from the Under-15s. Piling heaps of runs, he scored 4624 runs at an enviable average of 69 with 17 centuries to his name.
Rahane's initiation to Ranji Cricket was akin to baptism by fire. His coach Pravin Amre, the then Mumbai Ranji Team Coach, recalls how Rahane struggled against Anil Kumble against Karnataka at the Wankhede Stadium in November 2007. He was hesitant, a shaky starter, a leg-before candidate to the incoming delivery, and vulnerable to edging the outswinger.
The Turning Point
For all the runs that Rahane scored, the Indian call remained elusive. His reputation as a "test cricketer" made him an unviable prospect for many IPL teams. For the first couple of seasons, he warmed the bench for the Mumbai Indians. In September 2010, Rahane played for the Board President's XI against the Australians in Chandigarh. Future Royal's teammate, Shane Watson, caught him for a second-ball duck in the first innings, and then watched him make an unbeaten 113 off 111 in the second innings against an attack that included Mitchell Johnson and Ben Hilfenhaus. Watson was so impressed, he called his IPL franchise, Rajasthan Royals, to recommend Rahane.
Under Rahul Dravid, who had joined the Royals the previous year after his acrimonious split from the Royal Challengers Bangalore, Rahane got a much-needed break. His confidence swelled with the faith that the Royal's placed in his abilities entrusting him with the role of opener.  "The IPL is on television, so many eyeballs, so much media space, that if you do well, you get recognised," Dravid says. "The selectors are smart enough to realise that you need to score runs in Ranji Trophy as well, but people start watching you. A lot of people score runs in Ranji Trophy. If you add that up with runs in the IPL, it gives you that extra edge."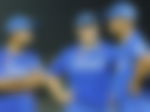 His stellar performance in IPL 2012 saw him scoring 560 runs that season at an average of 40 and a strike rate of 129.33, including an unbeaten hundred and a 98. This convinced the Indian selectors that Rahane was meant for international cricket.
Back to Square One
On March 22, 2013, fellow "grinder" Cheteshwar Pujara moved up to open in Delhi, and Rahane made his Test debut, after 16 straight games on the bench. Similar to his Ranji debut, another nerve wrecking debut awaited Rahane.  It was close to the worst debut a batsman could have. The first ball, from Peter Siddle, swung in and prompted a long shout for leg-before, followed by an earful from the bowler. A nervous Rahane ducked into a bouncer next, and was hit on the helmet. He lasted 18 balls before gloving Nathan Lyon to backward short-leg. In the second innings, India were chasing 155 and Rahane came in at 127 for 3.  One would have thought that things couldn't get any worse after the first innings, but alas, his nerves got the better of him as he staggered out to Glenn Maxwell off the fifth ball he faced, nowhere near the pitch, and holed out in desperation. It wasn't even a proper swipe. He attracted criticism from not only commentators but cricketing legends as well. Back to square one.
Refusing to let the disastrous debut bog him down, Rahane went back to the drawing board. Working with Pravin Amre, he made some slight alterations to his back lift and technique.  Such alterations served him well, and Rahane become the pillar of the Indian batting order overseas. With successful tours of Australia, South Africa, New Zealand, and England, Rahane had the peculiar record of averaging over 50 overseas but less than 30 at home, an anomaly made more ironic when Indian batsmen are termed as "flat track bullies".
His form during this period earned him the praise from various corners of the cricketing fraternity. Former England captain Michael Vaughan called him "the best technical player" in the Indian team. Former Australia captain Greg Chappell was impressed enough to say that "across a range of conditions against a range of oppositions", Rahane was likely to be consistent. Prior to the recently concluded Indo-South Africa series, Steve Waugh paid Rahane perhaps the highest compliment a batsman can receive, saying Rahane reminded him a little bit of Sachin Tendulkar.  After being criticized on air and in media, this was a welcome turnaround.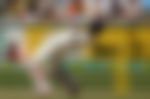 Life comes a full circle!
ADVERTISEMENT
Article continues below this ad
Yet form remained elusive at home. While no one now questioned his place in the team having proven himself in conditions which few Indian batsmen have been able to weather, the lack of runs at home was a blight that no player would like to have on his record. Rahane averaged just 8 runs at home before the Delhi Test. His innings at Nagpur and Mohali were also a tad underwhelming with him being a bit tentative at times. The Feroz Shah Kotla Stadium in Delhi is not known as a batter's paradise. It is a slow strip on which there is often some unpredictable bounce. The ball tends to skid onto the bat especially when it's old.  With India reeling at 139/6 in the first innings, the pressure was on Rahane and he showed how true the saying 'form is temporary but class is permanent' is. Adapting to the tough conditions, Rahane played the quintessential innings that is expected from a No. 5 batsman.
Stringing runs along with the tail, his century in the first innings was reminiscent of the numerous times VVS Laxman used to bail India out of trouble. The century helped India post a mammoth first innings total which not only helped India put pressure on the South Africans, but also helped the spinners attack the opposition batting order and not worry about runs. His second innings was a contrast to the first. With India in a strong position and Virat Kohli dominating the proceedings, Rahane played the second fiddle, ensuring that wickets did not tumble from one end. This ensured that Kohli could play his strokes and after he fell, Rahane resumed from where Kohli left off, maintaining the tempo of the Indian innings and completely battering down the South Africans.  His match winning efforts capped off a great year and saw Ajinkya Rahane trumping Virat Kohli in the test innings to end as the 12 best batsman in the rankings.
Former Indian captain Sunil Gavaskar rated Rahane above Kohli as a Test batsman.
ADVERTISEMENT
Article continues below this ad
"Rahane is currently the most complete Test batsman in the team. He is brilliant both in attacking and defending. He has done well everywhere, in all the conditions whereas Virat Kohli struggled in England", Gavaskar told NDTV recently. Perhaps, nice guys do not always finish last.