CWG 2014: DISCUS THROW: VIKAS GOWDA MAKES HISTORY
Published 08/01/2014, 3:30 AM EDT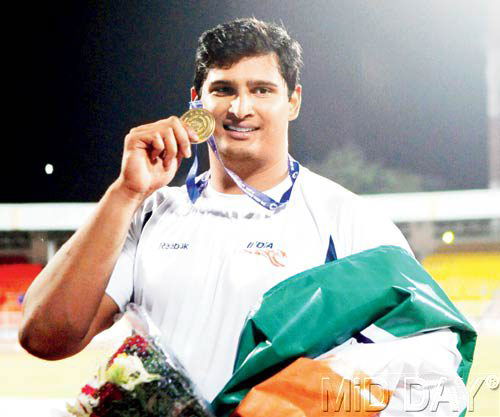 ---
---
Reminiscing the gold medal won by the India's most adorned veteran athelete, the flying sikh , Milkha Singh in 440 yards race in 1958 Cardiff Commonwealth games, Vikas Shive Gowda distinguished himself as he became the 2 Indian male sportsperson to win a gold in CWG athletics in Hampden Park on Thursday night.
ADVERTISEMENT
Article continues below this ad
The 31 year U.S. based athlete, hailing from Karnataka, is an alumnus of North Carolina University, Chappell Hill was also the US champion in 2006 NCAA Discus throw,  and holds a whole other set of accomplishments to his name.
He was noticed competing internationally for the first time in World Junior Championships in 2002 for both Discus throw and shot put. His first triumph was in 2005 Asian championships where he bagged a silver. For the rest of his performances in the Asian Championships, he bagged a bronze in 2010 and a silver in 2011 by achieving a distance of 63.53m and 63.18m respectively.
ADVERTISEMENT
Article continues below this ad
Contesting in the Olympics for the first time in 2008 in Beijing, he finished 22 with a throw of 60.69 meters. In the 2012 London Olympics he finished 8 with a throw of 64.79 m. His personal best is 66.90 meters, which he achieved in 2013, which also is the Indian record for the same.
Spanning his Common wealth career, he first appeared in the 2006 Melbourne games where he secured the 6 position. For the 2010 Delhi CWG he bagged a silver for a distance of 63.69 meters.
For the show he put up yesterday, 31 July 2014 (A date to remember by), he had qualified for the finals with ease by hurling the disc to a 64 meter mark. However he couldn't achieve the same in the finals. Still he relished one of the finest moments of his life, clinching the gold for his 3 attempt (out of the 6 allowed), heaving the disc up to a remarkable 63.64 meters.
After observing his competitors, Apostolos Parellis from Cyprus (who won the silver with a distance of 61.91m) and Jason Morgan from Jamaica(who got the bronze for a hurl of 61.08m) were not even close to his throw, he didn't feel the need to take any further attempts. Achieving greatness, he has made Indians proud all over the world, including his father, Shive Gowda, who coached the 1988 Indian Olympic track team.
Evidently, getting inspired by his feat, we wish the athletes representing the country the best and hope that more of our upcoming sportsmen triumph in Athletics.