Cyberpunk 2077: CD Projekt Red Announces Cyberpunk Anime
Published 06/25/2020, 5:42 PM EDT

Follow Us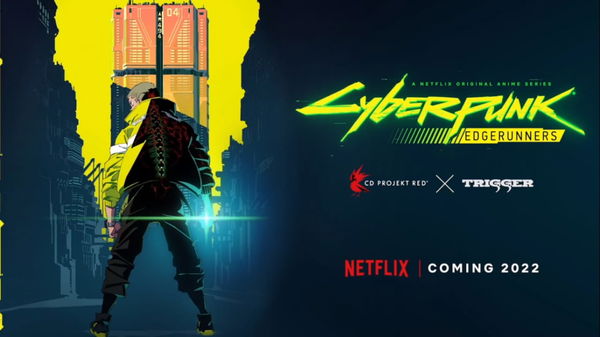 The show Night City Wire streamed its first episode on Twitch today. This is a show organized by the CD Projekt Red devs to provide insight into, arguably, the most-awaited game of the year, Cyberpunk 2077. Today's episode came with a lot of new information, surprises, and a brand new trailer and gameplay.
The hype around the game is already unbelievable and after today, it is sure to get another boost. Along with the new trailer, and some never seen before gameplay footage, the developers dropped an announcement they have been hiding up their sleeve.
CD Projekt Red, in partnership with Studio Trigger and Netflix, have a standalone Cyberpunk-based anime in the making. The anime is under production at Studio Trigger (Nakano, Japan). Titled  'Cyberpunk Edgerunners', it too is set in Night City but with different characters and storylines. The anime will launch in 2022.
ADVERTISEMENT
Article continues below this ad
Cyberpunk Edgerunners will be a gateway to both the Cyberpunk game and the Cyberpunk genre
Saya Elder, the Japan-based producer of this anime, tells us more about the project. Night City will serve as the stage here too. The characters and the storyline, however, are entirely new. So those unfamiliar with the game can also enjoy the anime too.
"I like to think that it is going to be a great gateway for newcomers to come and check Cyberpunk game and also the Cyberpunk genre.
The team at Studio Trigger is also excited to bring to us this anime. Of course, the expectations are really high for this anime already, majorly because of the hype surrounding the game. Studio Trigger assures that they want to produce the anime in a way that it does not miss the mark.
Masahiko Otsuka, CEO of Studio Trigger, assures that they are compromising the quality of the project at all.
"This is Trigger's 10th year anniversary, so we have prepared the ultimate team of Imaishi and Yoshinari as director and character design to bring an outstanding result."
ADVERTISEMENT
Article continues below this ad
Edgerunners will be a treat for fans
Director Hiroyuki Imaishi says that he has been a fan of Cyberpunk as a genre but found it difficult to make an original work in this sphere. He adds that this anime will also cater to people who are not familiar with the game.
"We are making the anime that both Cyberpunk fans and those who are not so familiar with the game can enjoy. Stay tuned."
ADVERTISEMENT
Article continues below this ad
Okay, Cyberpunk 2077 was already the most-awaited game of the year and now we have an anime-inspired by the game? Could this get any better?