Cyberpunk 2077 Patch 1.2 Fixes Hundreds of Problems
Published 03/30/2021, 8:07 AM EDT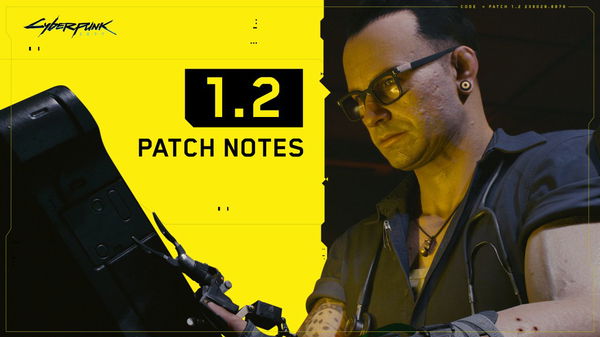 ---
---
After a long wait, Cyberpunk 2077 is getting a major patch update. Patch 1.2 has been confirmed to arrive on PC, consoles, and Stadia with over a hundred changes.
ADVERTISEMENT
Article continues below this ad
CD Projekt RED's Cyberpunk 2077 opened up to a lot many glitches after years of anticipation and hype. Many were of the opinion that the developers should have taken a bit more time before launching it.
Following an immense backlash about the state of the game, developers have been putting in the time to make things better, and this huge update may just be the differentiating point.
ADVERTISEMENT
Article continues below this ad
What does the new update bring to Cyberpunk 2077?
The new patch brings overhauling changes in major departments including UI, environment, graphics, performance, stability, and platform-specific changes among others.
Performance issues in the previous-gen consoles were a major talking point in the community, with the game being near-unplayable on them. The new patch will be fixing the same alongside providing accelerated performance.
Listed below are some of the changes that will roll out in Cyberpunk 2077 soon.
Gameplay
The NCPD spawn radius for when the player commits a crime has been increased.
New Steering Sensitivity slider added to Controls settings. Allows reducing steering speed for all vehicles, on all input devices. Particularly useful for keyboard users.
Police vehicles will no longer immediately despawn after getting into Kerry's car during Rebel! Rebel!
Fixed an issue where grappled enemies played voice lines as if the player bumped into them.
Fixed an issue where a civilian running from a driving player could react incorrectly.
V can no longer use consumables in situations where scene context would not support it.
Fixed several door blockers that could make enemy NPCs stuck, preventing them from being killed.
V should now automatically unequip a charged grenade when entering safe areas.
PC- specific
Enabled Ray Tracing on AMD graphics cards. Latest GPU drivers are required.
Keyboard bindings: more keys are now available for rebinding.
Achievements will now work on Epic Games Store.
Fixed the issue where some environment elements would not be displayed correctly on 8k screens.
Console-specific 
Fixed an issue on PlayStation 4 where items couldn't be dropped from the backpack as they would always reappear back in the inventory.
Various memory handling optimizations on Xbox.
Fixed multiple issues with random game freezes.
Improved Screen Space Reflections.
Various NPCs and vehicle streaming improvements.
ADVERTISEMENT
Article continues below this ad
Expect some sweeping changes
CDPR has looked into even the smallest of details. For instance, the update will rectify even misspellings that players have reported. New steering adjusts slider will also help players to take better control of vehicles in the game. Other notable changes include NPC behaviors, bugs during quests, and more key binding options.
The patch was initially reported to release in February of this year. However, CDPR suffered a cyberattack that compelled it to push the dates. With such a long array of changes, the size of the update will be considerably big.
ADVERTISEMENT
Article continues below this ad
You can check the entirety of the changes from the Cyberpunk 2077 website. CD Projekt RED is yet to announce the release date for the new patch. Rest assured, it should be rolling out in early April.