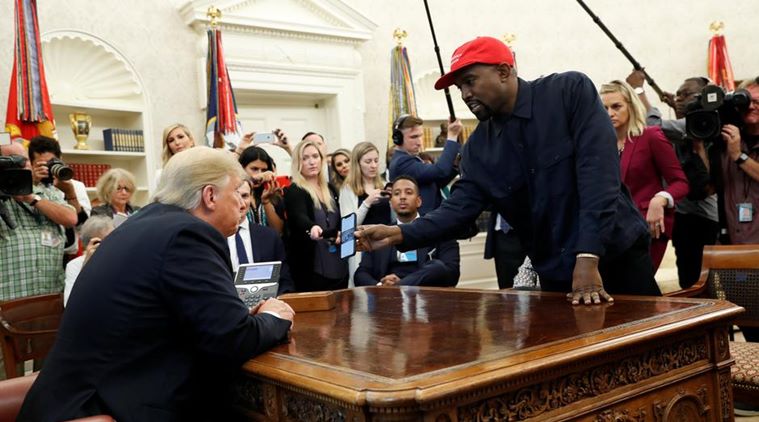 https://indianexpress.com
It is nothing new for Kanye West to constantly be on the news with his comments, beliefs, and eccentricity. He recently took the internet by wonder as he made what is perhaps his biggest announcement, at least in recent times. Yesterday, the Atlanta based rapper posted a tweet announcing that he will be running for the Oval Office this year. Naturally, the Tweet got a ton of replies but the most notable ones are from Elon Musk and the official Twitter handle of Cyberpunk 2077.
Read more: WATCH: 20 Minutes of New Cyberpunk 2077 Gameplay
We must now realize the promise of America by trusting God, unifying our vision and building our future. I am running for president of the United States 🇺🇸! #2020VISION

— ye (@kanyewest) July 5, 2020
We all by now know of his vocal support for the current US President Donald Trump (sporting that MAGA hat). Of course, he has received his fair share of criticism for a lot of comments. For whatever reason, Kanye manages to be in the headlines every now and then. And this might just be one of the biggest things he has been in the spotlight for.
Read more: Cyberpunk 2077: Devs Scrap An Exciting Feature
Cyberpunk 2077 and Elon Musk reply to Kanye's Tweet
Elon Musk has promised his full support to Kanye in his presidential run this year. According to Forbes, Elon Musk and Kim Kardashian will reportedly endorse Kanye in his campaign. Of course, this news has taken news houses all over the world by storm.
You have my full support!

— Elon Musk (@elonmusk) July 5, 2020
However, it was unexpected of Cyberpunk 2077's official Twitter handle to reply to Kanye's tweet. Well, we will leave it up to you all to decipher what this one means:
Sooo this is how it started.

— Cyberpunk 2077 (@CyberpunkGame) July 5, 2020
Elon Musk went on to reply to Cyberpunk on the tweet:
It may have started already

— Elon Musk (@elonmusk) July 5, 2020
"Kanye West went from endorsing Trump to claiming he'd run against him"
POLITICO reporter Marc Caputo, who has been covering the 2020 Presidential campaign, posted a Tweet suggesting that this end up working in favor of current US President Donald Trump.
Kanye West went from endorsing Trump to claiming he'd run against him —an announcement that benefits the president to the degree it spotlights Biden's need for black voters & his potential weakness with young voters https://t.co/0m4PUO6s6a

— Marc Caputo (@MarcACaputo) July 5, 2020
While some people are analyzing exactly how serious Kanye is about this, other people are carrying out discussions along the lines of what Marc tweeted. Rightly enough, this has become a matter of discussion among people.
Although the elections are just some months away, Kanye reportedly has not yet filled the paperwork required to appear on state election ballots. Reports say his name also does not yet appear in the Federal Election Commission database.