Daley Blind: United's best move last season?
Published 06/19/2015, 7:54 AM EDT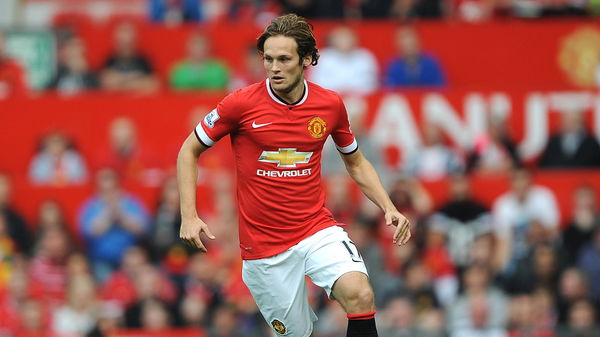 Aug 26, 2014– Manchester United officially announce that a deal has been made to sign Angel Di Maria, the then Champions League Final man of the match and World Cup silver medallist, from Real Madrid.
ADVERTISEMENT
Article continues below this ad
Sept 2, 2014– In a jailbreak deadline day move, Manchester United secure a one year loan deal of Colombian striker Radamel Falcao from AS Monaco with an option of buying him at the end of the season.
In a whirlwind 1 week in transfer market, Manchester United secured the services of 2 of the best players in the world. It was statement of intent from the club that it can attract big names in world football even without Champions League. These were supposed to be their marquee signings. 38 premier league matches later, Radamel Falcao is no longer a United player and Angel Di Maria has lost his place in the starting XI to a rejuvenated Ashley Young.
ADVERTISEMENT
Article continues below this ad
Amongst the host of signings that United made, Daley Blind was one of the least known names in footballing world (minus Netherlands). In fact, many people didn't know him before he gave that assist to Robin van Persie for "that" header. However, before he made a mark in Netherlands' World Cup Finals' campaign, he was awarded the Eredivisie Player of the Season award in 2013-14 when he was playing for Ajax. The award which has previously been won by Johan Cruyff, Frank Rijkaard, Marc Overmars, Danny Blind (Daley Blind's father), Edvin van der Sar, Jaap Staam, Luis Suarez and many more, courtesy, an impressive season with Ajax in which he averaged 2.7 tackles and 2.6 interceptions per contest.
The strength of Daley Blind's footballing ability lies not with his pace or hard tackles. In fact, he's not a great runner with or without the ball, an attribute a left back should actually possess. He, however, possess a brilliant footballing brain. Blind's reading of the situation and positioning make him a difficult player to play against. His football thrives on his brain more than his legs, something he has earned from his father's genes.  Also, Blind's decision-making ability is spot on, as he knows when to go forward and join the attack and when to stay at the back and do the defensive work. His match up against Jesus Navas – one of the quickest players in the league, in the Manchester derby at Old Trafford is a testament to his incredible tactical nous and positioning. Despite lacking in pace, he was caught out just once in the opening 5 minutes of the game and as the game progressed, it was Jesus Navas' only real involvement as Daley Blind carried out his defensive duties almost to perfection. Blind isn't an explosive left-back in the way Patrice Evra was. He's more measured and thoughtful but just as functional.
However, Daley Blind was never signed as a left back by United. Luke Shaw, a teenage left-back who had an incredible season with Southampton, was signed for a massive 27 million British pounds. And Marcos Rojo, another World Cup silver medalist, was signed as a Centre Back who can even be deployed as a Left Back, if need be. Daley Blind was, in fact, signed as a Central Defensive Midfielder, as a cover for injury prone Michael Carrick. And it is here, that Daley Blind's utter importance for Manchester United's squad this season is made apparent. He was signed from Ajax to fill the gaping hole in midfield left over from Sir Alex Ferguson's reign. It became even more necessary when Michael Carrick was ruled out of the first three months of the season with an ankle injury. Yes. Injuries made Daley Blind United's most important signing of the season. Looking at how the season spanned out for Louis van Gaal's men, with an incredible 68 injuries suffered by them, Daley Blind's tactical mind and positional sense and versatility made it possible for Louis van Gaal to deploy him as a Defensive mid fielder. His ability to make a challenge and hold on to possession and his distribution of the ball were impeccable. Although, he was no Michael Carrick in spraying the ball over the pitch and orchestrating United's attack. Still, his strength in holding up possession, tackling/interceptions and his accurate passing meant that United had long spells of ball possession and high pressing when they didn't have ball possession; something essential in Louis van Gaal's "philosophy".
With the injury list mounting up and the defensive woes showing no signs of improving, Louis van Gaal even made use of Daley Blind as a Centre Back. It looked like Daley Blind's versatility made him the "go-to man" for Louis van Gaal. Whenever Louis van Gaal needed someone to fill up a midfield or defensive position left vacant because of injuries or suspensions (mostly injuries), he always looked towards his fellow Dutchman for relief. He has been that kind of guy for Manchester United; the kind that Manchester United doesn't deserve, but needs.
In January of this year, Gary Neville, a former Manchester United right-back and captain, critiqued Daley Blind's style of play: "He plays far too many square passes and takes the easy option.", to which Blind insisted that Gary Neville was wrong to criticize him.
'Of course you can sometimes play the ball forward but sometimes it is good to keep the ball in possession and
'I can make other players more important than myself. If I can do that by switching the play to the other side or wait for the right moment to do that then I will.
ADVERTISEMENT
Article continues below this ad
'If there is space forward then I will play that ball but sometimes I think it is better to keep possession, to switch from side to side and move the ball and search for players who can make an individual action. I am not a player who does that. I like the possession game and keep the ball.'
Neville has a well-deserved reputation as one of the better TV pundits. Buried in Blind's observations, though, are words that one would expect to meet with his approval.
When he says that 'I can make other players more important than myself', Blind would appear to be buying in not only to a philosophy that took Holland further than they expected to go in last summer's World Cup but was also fundamental to United's success during the years Neville played the game.
ADVERTISEMENT
Article continues below this ad
Daley Blind's healthy partnership with Ashley Young in the last part of the season in the left flank witnessed some of the best United plays in the post-Ferguson era. A case can be made for the Herrera-Mata Spanish partnership, Michael Carrick's presence as an orchestrator and Herrera's incredible role in the mid-field making him the most important United signing last summer but the fact that Daley Blind's defensive game both in the centre of the park and down the left flank throughout the injury plagued season of 2014-15 and his attacking partnership with Ashley Young during the last part of the season was instrumental in LVG's mission Champions League Football.
To put it bluntly, Daley Blind's performances as a CDM, LB, and CB and even as a LM (vs QPR at Loftus Road) were commendable. Di Maria and Falcao were woeful for the entire season with Di Maria showing glimpses of his class in the beginning of the season. Herrera only came into spotlight in the second half of the season showing why was he so highly rated by Athletic Bilbao and Luke Shaw season's being a series of stops and starts due to injuries; Daley Blind's consistency and versatility made him Manchester United's most important signing of the season.