Damian Lillard Feels Trail Blazers Need to Retire LaMarcus Aldridge's Jersey Following His Retirement
Published 04/15/2021, 11:57 PM EDT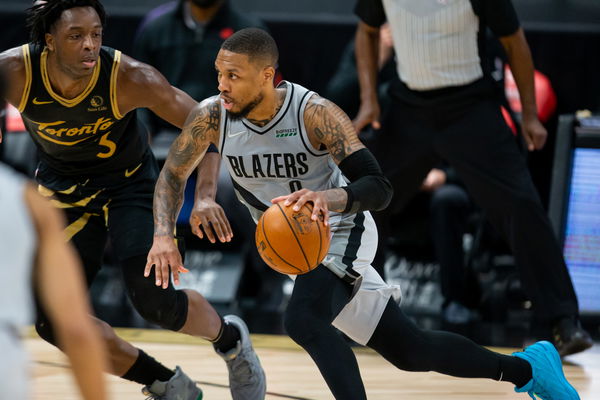 ---
---
Since he made his debut for the Portland Trail Blazers in 2012, Damian Lillard has played with just one All-NBA level teammate: LaMarcus Aldridge. They only played together for three seasons, but they were one of the Blazers' best duo from the last decade.
ADVERTISEMENT
Article continues below this ad
Earlier today, Aldridge announced an unexpected retirement following health issues. He revealed he had an irregular heartbeat which prevented him from playing again. So he chose to call time on an excellent 15 year career. Following his announcement, Lillard praised LMA in an interview, while also suggesting his jersey be retired.
"It's time, man. It's time for the Blazers to retire No. 12, man," Lillard said. "He had an amazing career in a Trail Blazers uniform. I think everyone was expecting him to return, and he ended up leaving and people felt some type of way about it. But there's no denying the kind of career he had in Portland and what he meant to this city. 
ADVERTISEMENT
Article continues below this ad
"So I think that's the proper respect to retire that jersey, because of who he was and what he did for this organization."
Looking back at Damian Lillard and LaMarcus Aldridge's dynamic duo
Despite playing together for just a short period, they were one of the most exciting duos in the league. A guard and big combo is always fun to watch, especially on pick and rolls.
Aldridge had one of the best midrange shots a big man has had in the NBA. That helped the Blazers duo to also run a lot of pick and pops.
In two of their three seasons together, they finished with 50+ wins. Their greatest performance as a duo came during the first round of the 2014 playoffs against the Houston Rockets.
During that series, Aldridge averaged 29.8 points and 11.2 rebounds per game while Lillard averaged 25.5 points and 6.7 assists per game. And to make things sweeter, Lillard ended the series with a historic buzzer beater.
ADVERTISEMENT
Article continues below this ad
Sadly, Aldridge ended up leaving the team in Free Agency in 2015 which caused some bitterness. However, the duo reportedly buried the rift when Lillard hinted at bringing in LMA during the 2020 Free Agency. Unfortunately, the tweet got deleted later and the reunion never happened.
ADVERTISEMENT
Article continues below this ad
Despite that, one can see how much respect they have for each other right now. Aldridge retires as one of the best players to have played in a Blazers uniform, and his number 12 jersey will soon be up in the rafters.