Dan Hooker Answers Retirement Questions – Explains Why He Threw his Gloves After Loss
Published 02/02/2021, 4:51 AM EST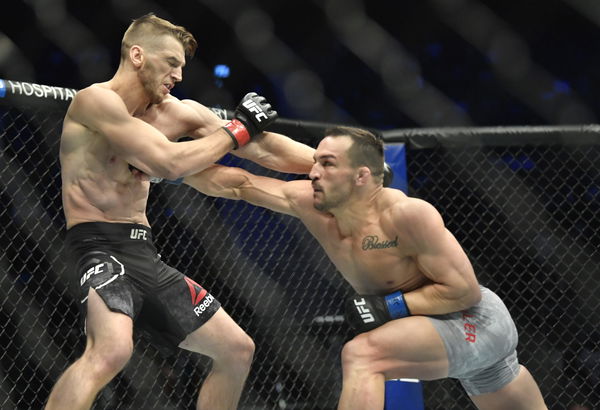 ---
---
Australian UFC lightweight Dan Hooker lost to Michael Chandler at UFC 257 at Abu Dhabi. The fight was over in the first round when Michael knocked out Hooker. At the end of the fight, Hooker threw his gloves in the center of the ring out of frustration.
ADVERTISEMENT
Article continues below this ad
Usually, when a fighter puts his gloves down, it is to signify that he's retiring from the sport. Therefore, this act by Hooker caused a frenzy on social media. Recently, UFC greats Khabib Nurmagomedov and Anderson Silva retired, with Anderson putting his gloves down in the ring as well. Hence Hooker's retirement would have brought a nostalgic end to another shimmering career. 
Why Dan Hooker put his gloves down
ADVERTISEMENT
Article continues below this ad
After the fight ended, Hooker spoke to SubmissionRadio, clearing everything up. He said," You're always frustrated after a loss. I balance everything like sheer frustration, you're disappointed, and you get back to the hotel, and you're like yeah." He explained further," In that moment, I was done, I'm finished with this s***ty sport, I'm done." 
However, he clarified that he didn't intend to retire just yet. He said," Then you get back to the hotel and sit down, and you realize that you're not good at anything else either. S***, I've kind of painted myself into a corner here."
He also added that he was as disappointed as after the fight against Dustin Poirier, which he lost via a unanimous decision. He ended the conversation by saying, "I don't feel like I have been in a fight. It all felt like a bad dream."
ADVERTISEMENT
Article continues below this ad
His return and next fight
He was asked about the timeline of his return, and he replied, "I haven't been in sync with my team for a while now. Timeline wise it would be cool to get back with the boys in March and go to the gym again." On being asked whether Conor McGregor was next, he answered, "I'm not taking any names until it makes sense. The headlines are easy to make, but I'm not calling anyone out." 
It's some good news for all the Dan Hooker fans out there, and one we can all appreciate. Surely, everyone would be excited to see how The Hangman returns in his next fight. 
ADVERTISEMENT
Article continues below this ad