Daniel Cormier talks about retirement after his loss to Stipe Miocic
Published 08/18/2019, 7:04 AM EDT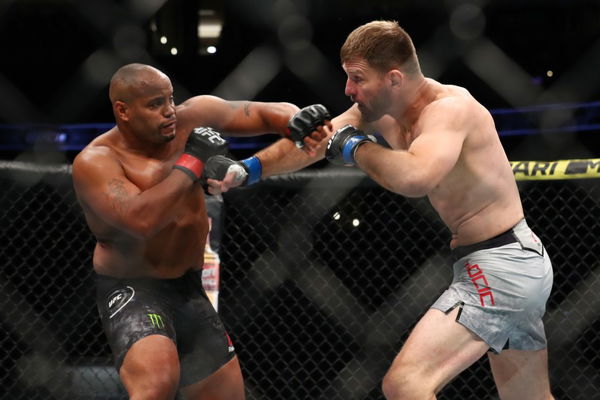 ---
---
In the biggest night of UFC this year, the heavyweight giants, Stipe Miocic and Daniel Cormier locked horns for the prestigious heavyweight title. Daniel Cormier started well and did manage to win the first round according to MMA pundits. Other than the second round, Cormier was having success with his striking against Stipe and probably won two out of five rounds.
ADVERTISEMENT
Article continues below this ad
But the whole complexion of the match changed when in the fourth round Stipe started to throw those monstrous body shots to Cormier. Then Stipe finished it off with few more great shots knocking out Daniel Cormier. The path ahead of Cormier is still unclear as the former light heavyweight and heavyweight champion is yet to decide whether he wants to continue fighting at the age of 40.
ADVERTISEMENT
Article continues below this ad
In his interview with ESPN right after the match, Cormier looked back at his fight with Stipe and talked about what went wrong for him. Cormier said he is very disappointed because he let his coaches and teammates down by not listening to them during the fight to implement the right gameplan.
DC said:
" I was able to hit him, the jab was landing. But I was also taking shots. I just didn't wrestle. I needed to be chain wrestling. it's disappointing that I didn't fight the way that we train"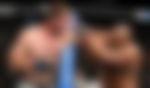 Daniel Cormier is one of the best wrestlers in the sport. However, with the success, he was having with the striking in the first three rounds against Stipe he didn't feel the urge to take Stipe to the ground. Although we saw Cormier manhandling Stipe on the ground when he picked up the former heavyweight champion, Stipe and slammed him on the ground.
DC talked about why he continued striking with Stipe and said:
"I think I fell in love with the fact that he was there to hit for the 2nd, 3rd, and even the 4th round. I think he(Stipe) did a masterful adjustment digging that left hook to the body."
He also mentioned that in the first and second round he was having success with his jabs and punches. But he is disappointed he didn't implement his chain wrestling strategy that he uses with all of his opponents. Cormier said that he fell in love with the fact that Stipe was there to be hit.
DC  talked about his vulnerability to losses and said
"I am a competitive guy. It's my gift and my curse. By not accepting a loss, I make sure I don't do it very often. That makes me good at stuff. But it also makes the emotion run so freely when it doesn't go the right way."
Even after the defeat, Cormier praised Stipe for the masterful adjustment he did in the fourth round. He also said that he made a mistake when he stopped pushing Stipe in the fourth round. Daniel Cormier is one of the most competitive athletes in the UFC. And when asked about a rematch with Stipe, he said he would make what lies ahead of him after a discussion with his team and family.
ADVERTISEMENT
Article continues below this ad
talking about a rematch with Stipe and retirement DC said:
" I think I can get a rematch if I wanted to. But it's something that I need to discuss with my team and my family. I'll get all my coaches to San Jose. We all go to lunch, we are going to talk, we will have our spouses and everybody together and we will discuss what's next."
However, Cormier mentioned that the only thing that will compel him to step into the octagon again would be a rematch with Stipe. So we will have to wait to find out what's ahead of Cormier.
ADVERTISEMENT
Article continues below this ad
There was a huge hype for the third fight between Jon Jones and Daniel Cormier. But a loss against Stipe might have lessened the probability of that dream fight happening at heavyweight. One thing for sure, Daniel Cormier has nothing to prove despite his losses against Stipe and Jones. He is one of the greatest to ever do it, and he has carried the sports throughout his career very well.