Daniel Ricciardo Reveals Why There Will Never be a Shoey for Hamilton and Vettel From Him
Published 04/08/2020, 8:50 AM EDT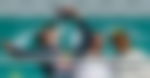 ---
---
In the event that Daniel Ricciardo will be sharing the podium with either Lewis Hamilton or Sebastian Vettel, he won't be offering a celebratory 'shoey' to the two hygienic drivers.
ADVERTISEMENT
Article continues below this ad
Ricciardo brought the 'shoey' to Formula 1 in 2016, celebrating his second-place result at the German Grand Prix by playing out a champagne 'shoey'.
From that point forward he's figured out how to convince others to participate, including Mark Webber and Gerard Butler. Even Sir Patrick Stewart decided to join the party at the 2017 Canadian GP.
ADVERTISEMENT
Article continues below this ad
Daniel Ricciardo was talking about Sir Patrick Stewart's 'Shoey' in an interview with Rolling Stones.
"I didn't prompt him. He grabbed the mic and said, 'give me some of that.'"
Daniel Ricciardo Likes Carrying A Lighter Side In F1
The Renault driver says he appreciates carrying a lighter side to Formula 1. He said that he never thought that F1 will be so much formal and business-oriented. When he was new he felt that it is very stiff and not something he is habitual of.
Over the years, Danny has successfully convinced a lot of fellow podium sitters to try his famous champagne 'Shoey'. For instance, Lance Stroll tried the 'Shoey' on his career first podium appearance at the 2017 Azerbaijan GP. Although it felt like he wasn't very happy with the taste.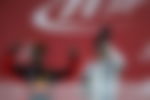 Introducing the 'Shoey' was his attempt to make the work environment more fun and lively. He never thought that the 'Shoey' will be a success and even had a fear that people will not take it in a good way.
"I didn't think the shoey would be a success. I thought everyone is going to look at me like I'm some sort of sicko."
Answering the question, "One driver Ricciardo most wants to involve in his 'shoey' moment?"
ADVERTISEMENT
Article continues below this ad
He said that he would definitely want to involve Lewis Hamilton in his signature celebration.
"As far as drivers go, it would be Lewis because he seems to be the most precious of them all."
However, he doubts either Hamilton or Vettel will ever take the chance.
ADVERTISEMENT
Article continues below this ad
He clarified, "I think both of them, they seem like very hygienic people."