Daniel Ricciardo Woes Continue: Abu Dhabi
Published 11/24/2018, 7:33 AM EST
By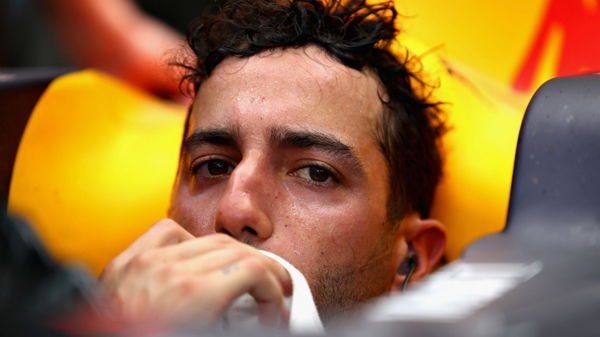 Daniel Ricciardo pulled up on he track to throw his participation in the qualifying event at Abu Dhabi into doubt. This comes after Lewis Hamilton and Ferrari fought back in the third free practice for the Abu Dhabi Grand Prix as the reigning world champion led the other red cars in the top three. Valtteri Bottas and the Red Bulls had dominated the proceedings on Friday.
ADVERTISEMENT
Article continues below this ad
Daniel Ricciardo ground to a standing halt in the final minutes of the FP3 after turn nine when his car lost power on the back straight. The Australian has suffered a series of bad lucks this season with a career high eight DNFs in 2018, giving his final Red Bull season something of a bad memory to remember when he looks back on his career.
ADVERTISEMENT
Article continues below this ad
ADVERTISEMENT
Article continues below this ad
It came as no surprise to see Sebastian Vettel and Kimi Raikkonen improve as Ferrari turned up their engines. Hamilton topped the time-sheets with a 1:37.176 as he continues to dominate on the back of securing a fifth world title this year. Raikkonen, who will be leaving Ferrari for Sauber, after this race, was his closest competitor, with two tenths off the pace, but the Finn faces a trip to the stewards ahead of qualifying, after baling out of a pit-stop while in the pit-lane and then crossing the white line. Lewis Hamilton did something similar in FP1 and earned a reprimand, so Raikkonen could be expected with a similar one.
ADVERTISEMENT
Article continues below this ad
Max Verstappen was fourth quickest, and was half a second away from Hamilton which is a a position that Red Bull may be happy to take from qualifying as they appear to hold an advantage in managing the tyres compared to Ferrari as wel as Mercedes.
Ricciardo wasn't the only driver to run into trouble, with  Sauber's  Charles Leclerc destroying his rear wing in an incident at turn 19. However, he was able to re-emerge at the end of the session after some nifty and timely work from Sauber's mechanics.