Day 4: CLT20
Published 09/22/2014, 1:26 PM EDT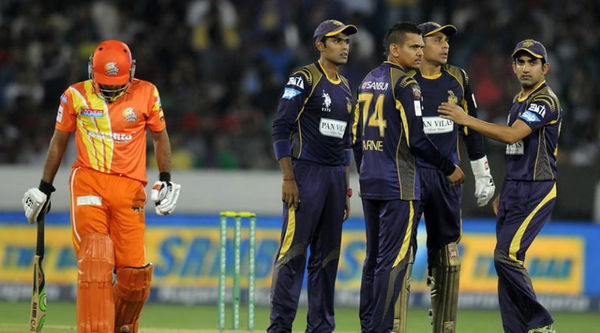 Kolkata Knight Riders extended their winning streak to eleven matches after defeating Lahore Lions by four wickets, backed by Gautam Gambhir's half-century and Narine's magical spin bowling.
ADVERTISEMENT
Article continues below this ad
Gambhir and Uthappa rattled up a 100 run, making way for an easy win.The opening duo was always at ease, picking up plenty of singles and scoring boundaries at their will. The chase was competed in 19.4 overs, as KKR lost five wickets in heap after being comfortably placed at 113 for 1 at one stage. Suyrakumar yadav(14) saw his team home, ensuring no twist in the tale.
Earlier in the innings, Lahore Lions struggled for major part of the innings as The Lahore batsman had no answer to the spin bowling of Sunil Narine and Kuldeep Yadav.
ADVERTISEMENT
Article continues below this ad
Narine, with his excellent figures, took three wickets giving away a mere nine runs in his four overs and it was largely due to contributions from the openers  Ajmal shehzad(59) and Umar Akmal(40) that Lahore lions could strike up a respectable total of 151 runs. Ajmal shehzad was dropped twice and also caught once before being finally dismissed.
ADVERTISEMENT
Article continues below this ad
KKR would be thanking their stars that their sloppy performance in the field didn't cost them the game.
Earlier in the day, Hobart Hurricane slumped the Cape cobras with Blizzard's half century being the highlight of the game. The platform for the chase of 185 was set by Ben dunk,before Blizzard came and slaughtered the bowlers, taking it home for his team  in the 19 over.
Hurricanes got off to a flying start, thanks to Ben dunk who came into his own even picking four boundaries in fourth over of Robin Peterson. With the wicket of Tim Paine, Blizzard came in and consolidated the innings before Dunk(54) was caught on the boundary looking for some elevation.
ADVERTISEMENT
Article continues below this ad
The dismissal gave Cobras a chance to get back into the game as they picked up quick wickets of Shoaib Malik and Birt cheaply and were looking favourites for the win at that stage before one over of Philander cost them  the game. Blizzard chose Philander's over to cut loose as he scored 24 runs off the over.Blizzard then smashed two sixes in the 19 over winning it for his team and remained unbeaten on 78.
Earlier in the evening, Cobras finished on 184-6 with contributions from the entire batting line up. Richard levi was the star performer for cobras. Doherty bquota of four overs with Hilfenhaus bowled well for Hurricanes giving 29 runs and Laughlin picking two wickets each.