Death of Left-Handers' Dominance In Men's Tennis?
Published 06/30/2015, 12:19 PM EDT

Follow Us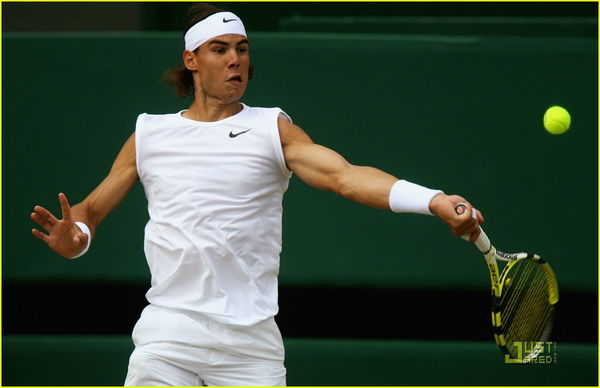 Seven of the first 17 champions at Wimbledon in the Tennis Open era were left-handed: Rod Laver, Jimmy Connors and John McEnroe. As recent as 1998, left-handers made up three of the top four men's seeds – Marcelo Rios, Petr Korda and Greg Rusedski. Left-handers recently even won the title in 2001 (Goran Ivanisevic), 2008 and 2010 (both Nadal). Now, the decline of Rafael Nadal has left the left-handers Contingent comparatively under-represented at the highest level. Of the top 32 men's seeds, 30 are right-handed. Only the two Spaniards Rafael Nadal and Feliciano Lopez are the only left-handers in Top 30 of Wimbledon 2015.
America's Favorite Video Today
While success in tennis is likely to depend on diverse aspects such as highly developed physical or psychological skills, left-handedness in particular was often considered beneficial for high-level achievement in this sport. And there have been numerous occasions where studies and researches were conducted to decipher the secret to a southpaw's success. In most sports, left-handedness has been shown to confer an advantage. Around 30 per cent of specialist Test batsmen and around a third of elite fencers are left-handed, compared to about 10 per cent of the general population.
The traditional advantage of the left-hander, especially on grass – is the wide swinging serve from the left-hand side of the court, which is where most game points, break points and set points are played. Because of the ball's natural spin, it tends to move away from the right-hander's backhand (usually the weaker side for most players). On grass, it also tends to keep low, allowing a competent serve-volleyer plenty of free points.
ADVERTISEMENT
Article continues below this ad
Taking a good look at Rafael Nadal, we can understand the science or rather bio mechanics behind the Southpaw's decent amount of dominance in the Men's circuit:
Rafael Nadal was born as a right-hander. But he plays tennis left-handed and even Nadal doesn't know why. Early in his childhood, in order to generate enough power to hit the ball over the net, Rafael Nadal started gripping the racket with both hands on both back-hand and fore-hand. His coach, uncle Toni pointed out that there were no dominant professional players who played double-handed on both sides, and told him to pick a favourite hand. For some reason unknown to himself, Nadal favoured his left. Playing left-handed Tennis has offered Nadal all sorts of advantages, most notably by allowing his stronger right hand to power up his double-handed backhand, which for some years has been one of the most feared shots in the game. As he grew up, for the purpose of Tennis, Rafael Nadal built the strength in his Left arm to a decent extent that placed him at the helm of Men's rankings.
But the story of Southpaws hasn't been very fruitful to here in recent times as there is deterioration in their dominance in Tennis. What has happened to the once dominant contingent in the Open era of Tennis?
The preference in the double-handed backhand of the right-handers has helped in Southpaws' decline. There is a significant amount of advantage a double-handed right-hander possesses as there is strengthening of both arms to cope up at the highest level. And also the development of the right-handed kick serve, which has a similar, if not quite identical, effect to the traditional left-handed serve. Right-handers are thus much more used to seeing serves that spin away from their backhand side, and much better-equipped to deal with them.
ADVERTISEMENT
Article continues below this ad
Nadal recently stated, "There are less lefties than righties, no? It is a question of percentage. But at the same time, there are still some good left-handed players. That's part of coincidence, generations. I don't think it makes a big impact if you are a lefty or not."
Austria's Thomas Muster, former Roland Garros winner believes that being a left-hander is less of an advantage than it once was. "The advantage is to serve from the left at important points to open up the court," he said in a recent interview. "In my time, not everybody had an excellent backhand, so that was an advantage. But nowadays, there are no weak backhands. Everybody is good on both sides."
For a detailed scientific study, visit the link mentioned below!
ADVERTISEMENT
Article continues below this ad
No more advantage for left-handed players in professional tennis?
Providing feedback will help us make your experience better.
Enjoyed Your Read? Let us know how likely you are to recommend EssentiallySports to your friends!