Decoding Manchester City's Historic Title Win
Published 04/22/2018, 5:37 AM EDT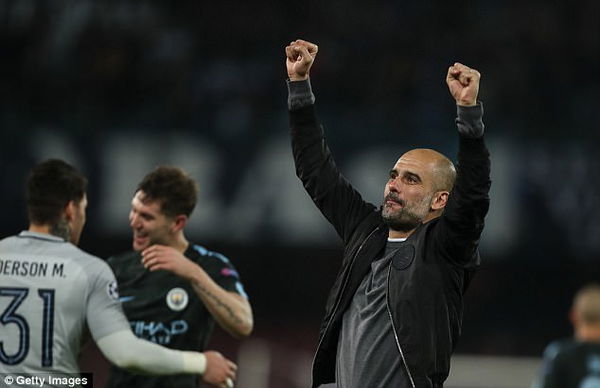 ---
---
The 2017-18 Premier League is one that will find its name in the folktale. While, on the whole, the league might not have been competitive but there is a reason for that. The now Premier League Champions, Manchester City have been exceptionally good. While the debate can go for a long while about which is the greatest team in Premier League history, there is no denying this one is one of the best ever.
ADVERTISEMENT
Article continues below this ad
Manchester City- Premier League Champions 
So how did Manchester City become so good? What did they do right?
ADVERTISEMENT
Article continues below this ad
Pep Guardiola is a genius 
When one starts to make the list of best managers in the world, it's hard to look beyond Pep Guardiola as being the number one  at the moment. Despite his remarkable success at Barcelona and Bayern Munich, there were questions about whether Guardiola can do it in England. After a tough first season in Manchester, those doubts escalated. Many said that his style of football cannot work in England. While there were calls for him to change by many, the Catalan chose to remain loyal to his principles. And the trust reaped rewards.
This season the Citizens have been nothing short of exceptional. Not only have they put on record-breaking results but they have done it in impressive style. Every football fan whether they publicly admit or not have enjoyed watching Manchester City play this season. Pep Guardiola has once again shown the football world that playing good football and winning isn't a choice one has to make but it is possible for both to simultaneously happen.
Improvement in players. 
The credit for Pep Guardiola goes much beyond the beautiful football he insists on being played. The personal improvement he has brought in players is a huge reason for Manchester City's success. Raheem Sterling was a player who was the butt of jokes prior to Pep grabbing hold of him. Since then, the former Liverpool player has gone on to become a pivotal match winner in this Manchester City side.
Though he has played much in the second half of the season, John Stones has grown leaps and bounds as a player this season. The remarkable improvement in German winger Leroy Sane is there for everyone to see. Above that, Kevin De Bruyne though has always been an astonishing talent, Guardiola's successful transformation of the Belgian talisman into a central midfielder alongside the genius of David Silva and solidity of Fernandinho deserves praise.
Money Spent Well
From Everton to A.C Milan to even Manchester United and Chelsea this season, there is enough evidence that simply splashing the cash doesn't mean everything. While its true that to play the kind of football that Manchester City and win consistently, you need to have a high quality and hence expensive squad, it's not just spending the money that matters. It is extremely crucial on who the money is spent. This is an area that Manchester City have excelled in.
By no means have Citizens just spent the money on big-name players. Under the director of football Txiki Begiristain, they have had a clear ideology in sync with the coach's style of play. The recruitment policy has led them buying players who fit the system and hence greater success for the team has followed. While barely anyone can spend as much as Manchester City have but almost everyone can learn to build a sustainable strategy from them.
Getting rid of deadwood 
The most important reason behind Manchester City's great run was probably the players they let go off. During the Summer, Manchester City released numerous players who were aging and not up to the required level anymore. The likes of Pablo Zabaleta, Bacary Sagna, Gael Clichy, Jesus Navas and Aleksandar Kolarov have been loyal servants of the club over the years but it was clear the Citizens could not move forward with them ageing anymore. Instead of sticking with them longer like many other rivals have done, Manchester City decided to let go of them. The Citizens replaced them with younger players who have the potential for the better part of a decade.
Can they sustain the success?
ADVERTISEMENT
Article continues below this ad
The big question on everyone's mind right now is whether this is a start of a glorious era for Manchester City.  It is not difficult to see why the world feels, this Manchester City could build a dynasty. The resources and potential is clearly there. But as we have seen with the past two titles wins at Chelsea, there is always the possibility of a false dawn. Many times after overwhelming success like that at Etihad now, there is room for complacency to draw in all departments of the club. If Manchester City can avoid that, the future is bright for them and scary for rivals
Can they get better
With Manchester City set to break almost all Premier League records, the question arises, can they get any better. The reality is in the league itself, it is very difficult to see them top this triumph. But so far Manchester City have been able to ever defend the title. It is a well-known theory that defending the title is tougher than winning it the first time. If Guardiola's side can do so next season, that would in itself be a massive achievement. If there is one challenge they can set themselves, that is to match Arsenal and go unbeaten. But the unstable game football is, being unbeaten requires a huge amount of luck.
ADVERTISEMENT
Article continues below this ad
However, all the success Manchester City have got has been domestic. Despite the wonderful season they have had, they were knocked out in the Quarterfinals of the Champions League. Its been 10 years since Sheikh Mansour's take over at the club and the club have only made the semi-finals of Europe's elite competition once. Compare this to Roman Abramovich's run at Chelsea, where the West Londoners made the semifinals seven times in his first decade in charge and ultimately even won the competition. For Manchester City to be considered among the European elite, they have to step up their game in the Champions League. That is clearly Pep Guardiola's next big challenge.