Ricciardo had a Few Choice Words for Bottas
Published 07/30/2018, 4:07 AM EDT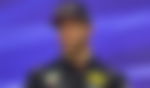 ---
---
Lewis Hamilton is currently enjoying a triumphant run in the Formula One title race. However, at the other end of the Mercedes garage Valtteri Bottas is a bit downtrodden. But two drivers who were definitely fuming were Sebastian Vettel and Daniel Ricciardo
ADVERTISEMENT
Article continues below this ad
While Hamilton comfortably won the race, Bottas slipped to fifth after collisions with Sebastian Vettel and Ricciardo. Bottas' latter collision was investigated after the race. Following that, he was adjudged as the guilty party for the Ricciardo incident and handed a 10-second time penalty.
According to Ricciardo's testimony, he left enough room for Bottas but the Finn went "over the top"
"Before the incident at the end with Valtteri in Turn 1, I knew he had some damage, so I knew it should be relatively easy to pass him, but he obviously just went too deep into that turn," Ricciardo said.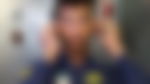 The Australian could not see Bottas as he was in his blind spot so he left plenty of room. Unfortunately, he still got hit by the Finn, the good news was that he didn't spin. Ricciardo felt that he did all that he could to avoid a collision by giving him enough room.
But he surmised that with the damage from the contact with Vettel, he went in pretty hot. Ricciardo classed the move as over the top. The Red Bull driver confessed that he wanted to get him back on-track instead of waiting for a penalty.
Naturally, the Aussie made his feelings explicitly clear when he gave Bottas a one-finger salute when he passed him. The 4th place in Hungary was of little consolation as Max Verstappen had retired early in the race. Needless to say, the Red Bull team were not in the best of moods.
Vettel ultimately forgave Bottas because he guessed that the latter had not grip and was vulnerable.