There are several creaks and leaks in Premier League's top sides but when it comes to Liverpool, there is a general consensus that there is one particular area where attention must be drawn towards before it's too late.
Central defense is yet to get an upgrade amid all the summer spending, and the future of Dejan Lovren is certainly up for debate.
The might of the Malaysian All Stars XI ghosted past him as though he wasn't there on Friday. Not only that, Lovren continued to look fragile in a drab 1-1 draw against the Asian minnows. He gave a performance that made fans wince in anguish and crowds cringe in despair. Although, he was absent from the horrendous 6-1 drubbing by Stoke City, that hasn't kept much of the blame for another poor defensive season falling on his shoulders.
Despite repeatedly getting chances from the manager to prove himself and his price tag, Lovren has never justified the faith his manager has put in him. He's probably Liverpool's drabbest signing of last summer after Balotelli and Lambert, dumping his team out of the Europa League with a penalty shootout miss.
He's started a lot of the preseason matches, however, which points to manager Brendan Rodgers either being the forgiving sort or — more likely — being determined to prove that one of his expensive transfer choices (at a cost of £20 million) will eventually come through. It's a hit-or-miss policy that believes persistence can reap its own rewards, although sometimes the player is shooting to miss.
However, is it fair for people to pick on the Croatian only as the sole culprit and root of defensive problems? Some might say that the absence of a quality defensive mid-fielder is an integral part of the defensive problem and they may have a point as well.
The number of goals conceded were less than 30 during the reign of 12 years when Gerard Houllier and Rafa Benitez managed the team. Stats don't lie.
Maybe, Liverpool do feel the need of a central defensive midfielder sitting at the top of defense and ably protecting and then marshaling his defense. Since Benitez left Liverpool in 2010, the club have conceded 44, 40, 43, 50 and 42 league goals respectively. Liverpool managers have depended upon Lucas Leiva as their sole holding/defensive midfielder in the squad.
The argument that Liverpool have not thoroughly protected their back four in recent years is a pertinent one. In the preceding decade, the holding role was filled admirably by Dietmar Hamann and Javier Mascherano, two of the best in the business. Momo Sissoko also had one or two productive years.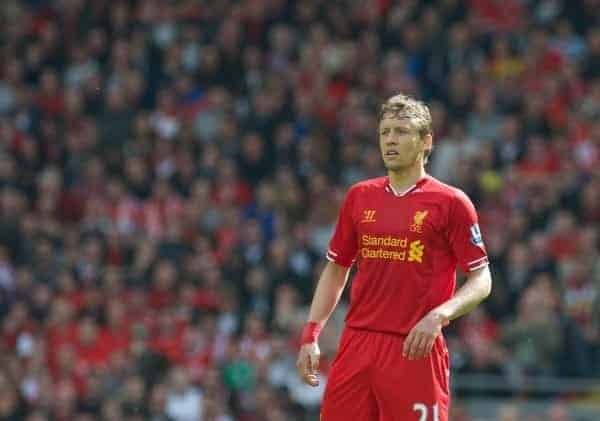 Lucas Leiva is not a bad defensive midfielder. However, for all his hard work and acknowledgement towards the importance of his role in the team, he's no Javier Mascherano or Hamann. Agreed that Hamann and Mascherano were not exactly prolific in terms of goals or creativity themselves, but they were not completely devoid of merit in those departments. Additionally, they were masters in their primary role — making sure the defenders were not harassed by the opposition like Lovren was against Malaysia XI.
Liverpool currently have a number of talented players in their midfield, but no one can play a role of such importance with regular efficiency, precision and responsibility. In the various touted formations the team is expected to utilize this season, there rarely seems to be an opening for such a player anyway without sacrificing other factors, width being one example.
There is no dearth of attacking midfielders and old-style workhorses, but few are all-rounders. Jordan Henderson comes closest to combining the required work rate and creativity. Although Emre Can still has the potential to get there, but for a holding role he currently seems too immature, brash and irresponsible to hold that duty for long.
Lucas Leiva was being speculated to leave the club and there was a long list of his potential replacements at the club. Some were as far fetched as Sami Khedira and some, like Morgan Schneiderlin who went over to rivals Manchester United, turned out to be ironic to say the least.
It was, infact, Schneiderlin who was carrying out the holding midfielder duties in front of Lovren during their Southampton days.
Considering that the St. Mary's side's defensive record has actually improved after Lovren's departure last summer, one wonders if the French midfielder was a factor in the Croatian seeming so impressive that he persuaded Liverpool to spend £20 million.
If Brendan Rodgers continues to rely on his team's weak defense with its current crop of midfielders by a concentrated physical effort alone, he'll be following a strategy just as risky as not investing in another expensive central defender.
As stated earlier, since Benitez left Liverpool in 2010, the club have conceded 44, 40, 43, 50 and 42 league goals. It's a problem that was there long before Lovren joined the club. So, it's only logical not to blame only the weak Liverpool defense for a run of poor season campaigns, although Mamadou Sakho continues to divide opinion, while Martin Skrtel's aggression doesn't always camouflage his own flaws.
Lovren was arguably the most disappointing of last season's buys given the amount of money spent on him. Lazar Markovic could always blame youth, confusion over his role, and settling into a new country, while Mario Balotelli is Mario Balotelli. He can play like a school boy in one match and like a Balond'Or winner in the very next match, although, that next match never arrived last season.
If Brendan Rodgers continues to tweak and play with the same line-up at the back, with the idea of playing with flair and creativity upfront reminiscing of the days when Luis Suarez used to play at the club, there is an element of grave danger at the back, and that defenders will have to get on with it anyway without having any hopes of help arriving.
The days when Liverpool conceded a meager tally of 25 goals, as they did in 2006 thanks to Hamann and Sissoko sharing the defensive duties to perfection, are looking increasingly distant in the past and with Brendan Rodgers not signing any marquee defensive players unlike his rivals, the days are also looking increasingly distant with each passing day, in the future as well.