Del Potro to Undergo Tests after Fall in Shanghai
Published 10/12/2018, 4:34 AM EDT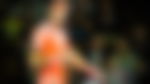 ---
---
Juan Martin del Potro faces an uncertain end to the season after injuring his knee at the Shanghai Masters on Thursday.
ADVERTISEMENT
Article continues below this ad
The Argentine was taking on Borna Coric when he suffered a heavy fall at during the business end of the first set. Del Potro's movement on the court was dramatically reduced following the fall. He received a medical time out where his knee was strapped, but he was forced to quit the match after dropping the opener 7-5.
"I hit my knee and felt a strong pain. At first I thought it was nothing and I tried to play, but I felt instability in my knee and I could not push off my leg. The best thing to do was to stop," Del potro said.
ADVERTISEMENT
Article continues below this ad
Del Potro now faces an anxious wait to see how significant the injury is. He has recently qualified for the ATP World Tour Finals in London for the first time since 2013. The multi-million dollar event features the eight best players in the world. Del Potro was runner-up at the 2009 tournament to Russia's Nikolay Davydenko.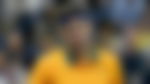 "During the match I had a bad fall. I made a weird movement with the knee and hit the floor very hard. I felt intense pain," he explained. "After, I lost the stability and strength on my leg, so not to continue was the best decision. I didn't want any more risks after that.
"The doctor observed me and told that we need to wait for the examinations results in a few hours. Then we will know how bad it was and how to proceed for the next tournaments."
ADVERTISEMENT
Article continues below this ad
The former US Open champion is scheduled to play at the Swiss Indoors in Basel. The tournament, which he has won on two previous occasions, will get underway on October 22nd.
The setback occurs during what has been one of Del Potro's best seasons of his career. He has featured in a total of six finals on the tour this season, including the US Open. At Indian Wells he won his first Masters 1000 title following a three-sets win over Roger Federer. In August he achieved a ranking best of third in the world.
Del Potro's win-loss for 2018 currently stands at 47-13. He is on course to end the year in the world's top 10 for the first time since 2013.
ADVERTISEMENT
Article continues below this ad