Dempsey Sees Gold Cup Despite Red Card
Published 07/07/2015, 7:00 AM EDT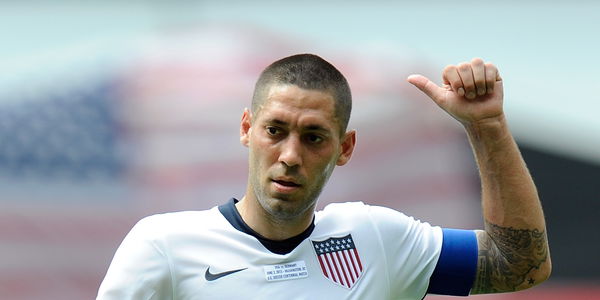 ---
---
ADVERTISEMENT
Article continues below this ad
With the 2015 CONCACAF Gold Cup approaching quickly this summer, coach Jurgen Klinsmann has put together a stacked U.S. team of veteran players. Not surprisingly, Seattle Sounders star Clint Dempsey will be joining the squad, making this his fourth consecutive Gold Cup appearance.
Dempsey saw playing time in each of his previous appearances and will likely be a key player in the upcoming 2015 matches. His selection on the Gold Cup team comes on the heels of an on-field bust up involving a referee. Klinsmann is confident that it will not be a distraction or issue and remains firm in his Dempsey selection.
ADVERTISEMENT
Article continues below this ad
Dempsey's on-field incident comes as a bit of a surprise. Though he has certainly always been a passionate player, the USA team captain has typically kept his cool in the face of hard fought matches. Since Dempsey has hardly built a reputation as a player to go around biting or pinching players, going so far as to touch a referee out of frustration comes as a shock.
The match in question had already begun to unravel; Seattle Sounders faced off against the Portland Timbers in the June 16th match of the U.S. Open Cup. Due to a previous ejection during the game, an injury for Obafemi Martins, and used up substitutions, the Sounders saw themselves on the field with just nine men. During extra time, the Sounders saw the game completely slipping away when Michael Azira received a red card during a tackle. In a seemingly selfish move, Dempsey decided this was the moment he would go down in flames with the match.
ADVERTISEMENT
Article continues below this ad
Following the Azira red card, Dempsey took the referee's notebook, tearing it up as he walked away. Predictably, the Sounders went onto lose the game 3-1 but Dempsey's punishment was hardly over. Though free bets and free bets online were all over the place speculating about the disciplinary action, Dempsey escaped with a three-game suspension and a fine handed down by Major League Soccer. Even though his conduct was classified as "referee abuse" Klinsmann can breathe easier knowing the disciplinary action will not affect an Gold Cup games.
For his part, Klinsmann is looking ahead to the Gold Cup matches in July saying, "So, obviously, when he [Dempsey] comes in next week to Nashville in preparation for our friendly game with Guatemala, we'll sit down and talk through that and we'll go from there."
Since Dempsey is the only two-time winner comprising the 2015 Gold Cup team, he'll undoubtedly be the veteran leading the team. With his Gold Cup experience, Dempsey will also be bringing his FIFA World Cup status; in 2014 he scored the fastest goal in American World Cup history, solidifying his indispensable role on the team.
ADVERTISEMENT
Article continues below this ad
Since winning the 2004 MLS Rookie of the Year, Dempsey has made quite a name for himself during his club career. In the 2011-12 season alone, he scored 23 goals for Fulham in 46 appearances, making his shooting game an absolute necessity for the Gold Cup team. His shooting ability combined with his physical battles to get ball possession make him a key part of any offence.
Klinsmann's Gold Cup plan goes beyond 2015 successfully defending their previous championship would mean an automatic qualification to the 2017 FIFA Confederation Cup and Dempsey will prove to be a major part of this greater plan. Those with free bets at freebets.com.au online can count on it.