Destiny 2 Developers Bring Legal Action Against Cheating Website

One thing that gamers hate the most is cheating. There are tons of websites that offer cheats and hacks for various games. Some of these are one-time purchases, some are subscription-based, and various others free. Such websites pride themselves on building undetectable software. However, Destiny 2 developers Bungie went to war against one.
Perfect Aim is a website that offers cheat at 'affordable' prices to players. The platform offers hacks for various games such as Battlefield, Counter-Strike: Global Offensive, Apex Legends, and many more. They also offered cheats for Destiny 2. However, players can no longer access these cheats as Perfect Aim has removed it from their site.
Bungie issues Cease and Desist order against Perfect Aim for offering Destiny 2 cheats
Developers usually try to deal with cheaters by enforcing anti-cheat measures. It appears that Bungie was at the end of the line with theirs. Therefore, they decided to bring legal action against the cheating software.
Upon visiting the Destiny 2 tab on the Perfect Aim website, a message is displayed that says, "This product is no longer available."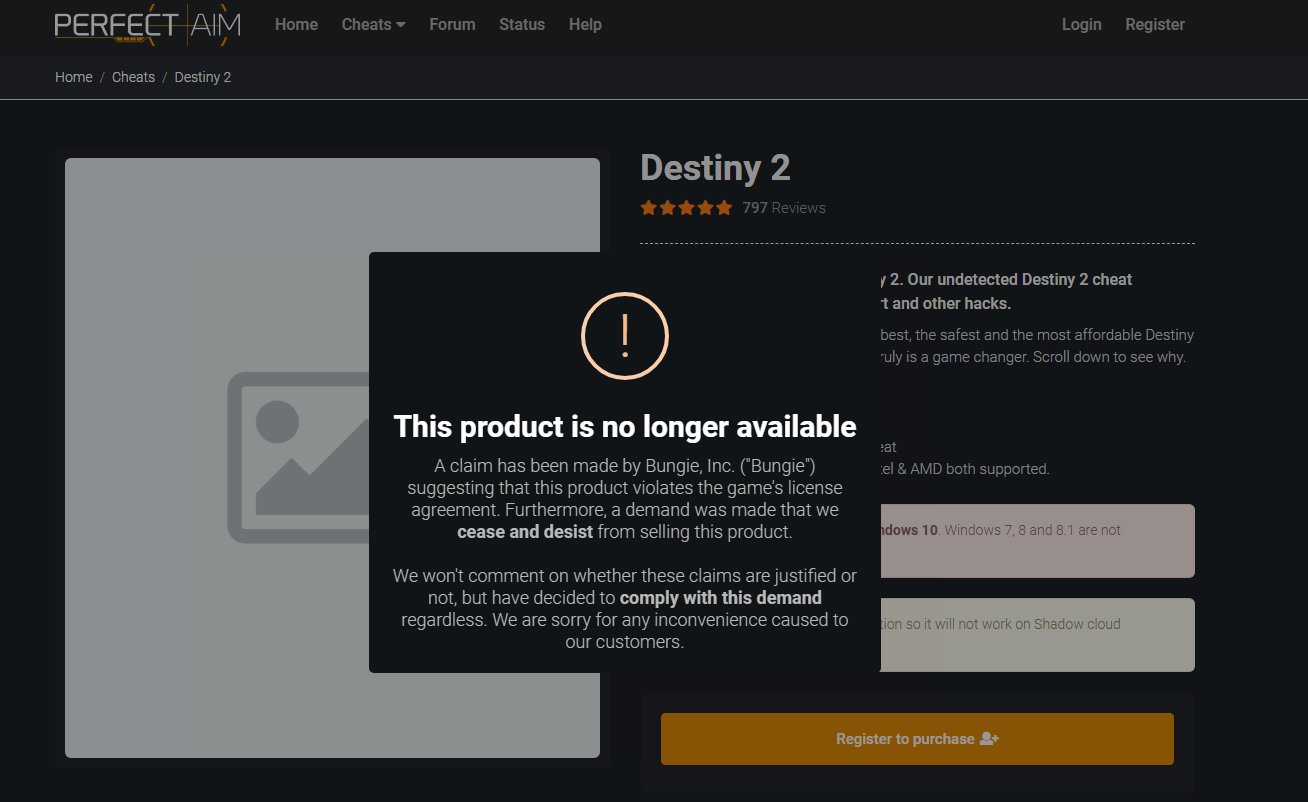 The message further says that the developers of Destiny 2 have claimed that the cheating software violates the game's license agreement. Therefore, they have issued a 'cease and desist' order to prevent Perfect Aim from selling the cheats.
While commenting on the demand from Bungie, Perfect Aim said, "We won't comment on whether these claims are justified or not, but we have decided to comply with this demand regardless." 
It is still unclear whether the cheat still works for those users who bought it before the legal action. However, this comes as a win for Bungie as the legal action acts as a deterrent and prevents further cheating in the game. Other such websites which also offer cheats for the game might reconsider following Bungie's legal pursuit.