Dhawan disappoints again
Published 10/22/2015, 12:11 PM EDT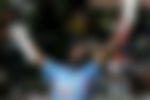 ---
---
'And Dhawan goes again early in the innings' is a phrase that most of us are used to listening now. The biggest concern for team India is that it's lefties aren't in form including Shikhar Dhawan and Suresh Raina.
ADVERTISEMENT
Article continues below this ad
Shikhar Dhawan is currently in a 'blow hot and cold' form and needs to find his form quickly or otherwise his being dropped from the squad won't come as a surprise. If Gautam Gambhir is brought back, it will probably take some pressure off Rohit Sharma, who single-handedly is giving India decent starts and Team India will get a good solid opening partnership.
Shikar, who scored just 14 runs in two T20 matches and 7 runs today against South Africa, is going through a prolonged rough patch. He has been dismissed 7 times without scoring a half century in the last 10 ODI matches.
ADVERTISEMENT
Article continues below this ad
Dhawan's poor run in the ongoing series has put India's batting plans in jeopardy. Dhoni has a few headaches ahead since he has not been showing any signs of regaining his lost touch. He has also lost his reputation of a home track Bully after continuously failing down under as he repeatedly gifted his wicket to the South African bowlers off short balls on the legs. He is looking to play short balls through the cover region on the front foot, which is doing him no good. A new trend which is being noticed among the Indian batsmen is the increasing usage of the front foot, rather than the backfoot.
Dhawan has been in the side for so long to his past performances. The left-hander earlier  enjoyed an outstanding phase during the 2013 Champions Trophy in England, where he scored back-to-back hundreds, garnering 363 runs in just five matches at an average of 90.75. He won the man-of-the-tournament, but ever since then, his poor form has let him down.
From the tour to Zimbabwe in 2013  then, in 17 ODI innings he played in West Indies, South Africa, New Zealand, England and Australia, he had been able to accumulate only 386 runs at an average 24.12. So, Should Team India give him a longer run? Or perhaps the time is ripe to give Ajinkiya Rahane a chance to open the innings. On the other hand, Ian Chappell thinks that Stuart Binny should be given a chance to open the innings as he looks technically capable and this would give Dhoni an option for a seaming all-rounder which appears to be a priority at the moment
While Binny has never opened the innings he has shielded India from batting collapses in England and has shown the right kind of temperament and might come in handy.