Dhoni fined for shoving Bangladesh bowler Mustafizur
Published 06/19/2015, 7:29 AM EDT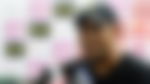 ---
---
Indian captain MS Dhoni has been fined 75 per cent of his match fee for shoving Bangladesh bowler Mustafizur Rahman during the first ODI in Mirpur. The newcomer Mustafizur was also fined 50% of his match fee.
ADVERTISEMENT
Article continues below this ad
On Friday, Dhoni and Mustafizur – whose five-wicket haul on debut gave Bangladesh a big victory – were summoned by match referee Andy Pycroft to hear each of their sides. Luckily, Pycroft found Dhoni guilty of a Level 1 offence, the penalty for which is a fine, rather than Level 2 offence, which could have led to a ban.
The Indian team's manager Biswarup Dey was present with Dhoni during the hearing. The Bangladesh team decided not to file a complaint against Dhoni.
ADVERTISEMENT
Article continues below this ad
The incident concerned occured in the 25th over of the Indian innings, when Dhoni forcefully pushed the pacer who was in his way while taking a single. The bowler had to temporarily retire without completing the spell; however, he then came back to torment the Indian batting. Earlier, Rohit Sharma had also collided with Mustafizur while taking a run before he managed to run around him, and immediately raised a finger towards the bowler.
After the match the captains of the two teams – Dhoni and Mashrafe Mortaza – tried to downplay the incident. "The bowler (Mustafizur) thought I would move away while I thought he would. But as none of us did, we collided. This can happen in any match. It's nothing big. I spoke to him later," said Dhoni.
Mashrafe Mortaza, also said that there was nothing serious. "Things like this can happen on the field during a match. We all shake hands at the end of the day and such situations can be discussed with the on-field umpires. It's nothing serious," he said.
During IPL 2015, Dhoni was fined 10% of his match fee for making "inappropriate" comments about an umpire's decision.