Diack resigns as honorary IOC member – IOC
Published 11/11/2015, 2:30 PM EST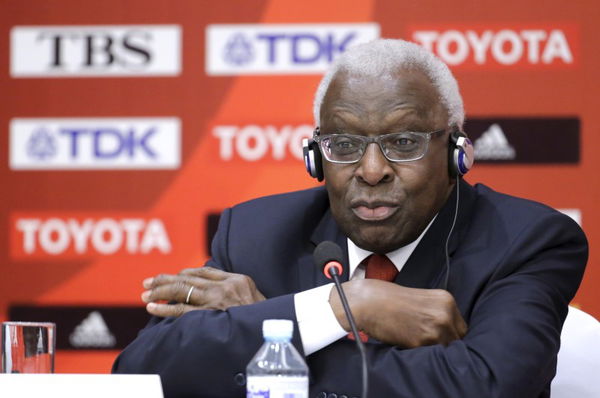 ---
---
LAUSANNE, Switzerland (Reuters) – Former world athletics (IAAF) president Lamine Diack has resigned as honorary member of the International Olympic Committee following the launch of a formal investigation against the Senegalese for suspected corruption and money-laundering, the IOC said on Wednesday.
ADVERTISEMENT
Article continues below this ad
Diack, provisionally suspended by the IOC on Tuesday and who has also resigned as president of the International Athletics Foundation, is alleged to have received more than one million euros ($1.07 million) in bribes in 2011 to cover up positive doping tests of Russian athletes.
The 82-year-old, an IOC member from 1999 to 2013 before becoming an honorary member a year later, was placed under formal investigation in France this week and questioned by authorities before being released on a bail bond of 500,000 euros ($536,700) and banned from leaving the country.
ADVERTISEMENT
Article continues below this ad
Diack's resignation from the Olympic body came two days after the publication of a World Anti-Doping Agency (WADA) independent commission report on allegations of widespread corruption and collusion by Russian officials, including state security services, to cover up results of drug tests, destroy samples and intimidate laboratory staff.
The report also identified "systematic failures" by the IAAF governing body, already rocked by the probe against Diack and other officials.
"This was shocking and saddening news," IOC President Thomas Bach told reporters.
"I could never have imagined in an international federation the leadership would solicit bribes from athletes in order to manipulate sports competitions. This is unbelievable.
"But we will not just stay there at being sad. We will take action," he said. "You will see medals withdrawn, athletes sanctioned by the IAAF, athletes and officials excluded from the Olympics and you will see action led by the IOC to make anti-doping testing independent from sport organisations.
ADVERTISEMENT
Article continues below this ad
Diack served as president of the IAAF from 1999 until August this year when he was succeeded by Briton Sebastian Coe. His son Papa Massata Diack and three others have also been charged with various alleged breaches of the IAAF's Code of Ethics.
Diack was a powerful figure within the IOC as he controlled the flagship sport of the Olympic Games for more than 15 years, with athletics also a big beneficiary, along with swimming, of the IOC's Olympic Games financial contributions.
Bach said it was now up to the new leadership of the IAAF under Coe to take the necessary measures to restore trust in the sport.
ADVERTISEMENT
Article continues below this ad
"I am confident Sebastian Coe and his team will do everything necessary to clean the federation there," Bach said, when asked whether a Russian team would be cleared to take part in the Rio de Janeiro Olympics next year.
(Reporting by Karolos Grohmann; Editing by Ed Osmond)