"Did I Hurt Someone": Daniil Medvedev Questions Code of Violation For Crossing the Net at US Open 2020
Published 09/12/2020, 6:38 AM EDT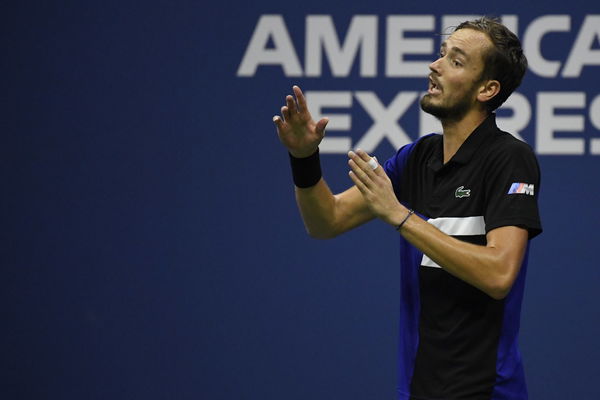 ---
---
The last thing Daniil Medvedev must have expected, before his US Open 2020 semifinal match against Dominic Thiem, was to lose in straight sets. The scorecard does his showing no justice. Even though he took the second and third set to tiebreakers, he failed to finish properly on both accounts. That must have been a heartbreaking moment for the Russian. Especially give that it happened in the semis of US Open 2020. Medvedev lost the match 2-6, 6-7(7), 6-7(5).
ADVERTISEMENT
Article continues below this ad
Taking questions from the press at the end of the fantastic match, there was a question to the 24-year-old Russian asking him about an incident that had taken place in the 6th game of the match. He had looked angry and annoyed at the match officials.
Daniil Medvedev just received a warning for crossing the net to point at a mark after he wasn't allowed to challenge late. After discussion with umpire and supervisor, a very sarcastic: "My sincere apologies to US Open for crossing the net."

— Tumaini Carayol (@tumcarayol) September 12, 2020
ADVERTISEMENT
Article continues below this ad
Returning the serve in the 6th game of the first set, Medvedev became completely speechless when a line judge had missed the fact that his first serve had sailed long. He was caught off-guard when Thiem returned the ball and the call never came.
What frustrated Medvedev, even more, was that the chair umpire had refused to let him challenge the call. His frustration got the better of him as he went rushing to the supervisor to complain.
"I'm like, supervisor, do something. Why are you sitting here?" – Daniil Medvedev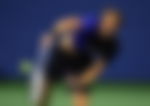 The question was specific and the reporter wanted to know what was he thinking at that time. So what exactly had he expected the supervisor to do?
ADVERTISEMENT
Article continues below this ad
"I was just really angry. Of course, there was no reason to talk to him. But what surprises me sometimes in tennis is, okay, the supervisor is always there in case, let's say, for example, a default. He steps up, calls a default. It's not the decision of an umpire."-replied the Russian.
"For example, talking about my code violation today, I mean, what did I do? Did I hurt someone? Did I say something rude? I didn't do anything. I get a code. I'm like, Supervisor, do something. Why are you sitting here? I still don't know the answer to this question. Of course, there was no reason to get angry on this," concluded Medvedev.
Every point is significant, but sometimes all it takes is one point. Emotion is undoubtedly an essential part of this sport. Athletes do follow an instinctive approach many-a-times. What was good was that a promising and young player like Medvedev admitted that there was no reason to have gotten angry about that incident. That is what sportsmanship is all about.
ADVERTISEMENT
Article continues below this ad