Did Jofra Archer just Stake his Claim for The Ashes 2019?
Published 08/06/2019, 6:51 PM EDT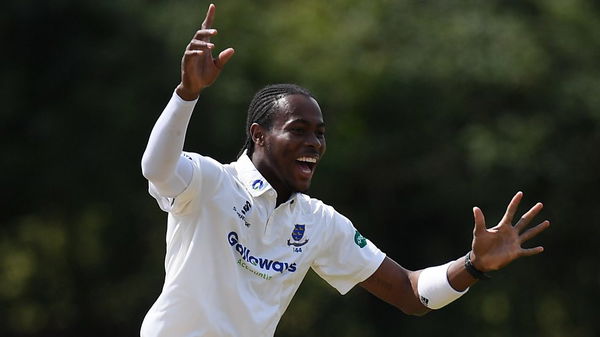 With James Anderson injured, England have a very big position to fill for The Ashes 2019. 575 wickets! That is what Anderson means. The most by any pacer in the history of the game. England though, are not short of options. World Cup hero Jofra Archer has very quickly risen into one of the most talented fast bowlers in World Cricket at the moment.
ADVERTISEMENT
Article continues below this ad
If the performance in the World Cup was not enough, his first class record speaks for itself. Archer would walk into the England test side would not be an overstatement, considering his ability and records.
131 wickets in 28 first class matches is as good a record as you'll ever see. For a man who had just played 13 ODIs till then, the fact that he was called upon to bowl the super-over in the finals of the ICC Cricket World Cup 2019 speaks volumes about how much England believe in Archer.
ADVERTISEMENT
Article continues below this ad
Perhaps England were already excited about seeing the Jamaican bowl in The Ashes, but just did not want to risk him ahead of a long tour, as he was just coming back from an injury. This is quite sensible considering that he had only played a domestic T20 match after coming back from injury. The same sense did not prevail in the case of James Anderson. Anderson not only could not bowl in the first test, but will now miss at least one more match. But then, Archer is not the highest wicket-taking pacer in the history of test cricket. The decision might have been a lot easier in case of Archer, but not Anderson.
Jofra Archer stars for Sussex-
Now, having to play for Sussex to prove his match fitness, Jofra Archer might just have cemented his place in the eleven for the Lord's test with a six wicket haul.
A video of Archer's bowling shows the menace with which Archer could bowl. The West Indies born England cricketer bowled Joel Garner-esque bouncers as well as Anderson-ish out-swingers.
ADVERTISEMENT
Article continues below this ad
"We've been waiting for some guys with a bit more pace," England coach Trevor Bayliss said, and Archer can provide some.
The performance not only ensured his match fitness, but also reiterated his ability. It would be a surprise if he isn't in the lineup at Lord's.
ADVERTISEMENT
Article continues below this ad
To top the performance up, Archer also scored a century in the match. Coming in at 54 for 4, he smashed a 99-ball 108.